ANN ARBOR, Mich. (WXYZ) — Data from the National Center for Education shows that more than half of all public schools in the country reported that they were understaffed at the start of the 2022-2023 school year.
69% reported that too few teacher candidates applying for open positions was the problem.
The teaching shortage itself isn't new news but in recent months our state has seen a plethora of new programs being proactive in recruiting educators to fill this void.
Justin Harper is a paraeducator at Dicken Elementary School in Ann Arbor taking part in one of those programs, the paraprofessional-to-teacher certification program by Eastern Michigan University and Washtenaw Intermediate School District.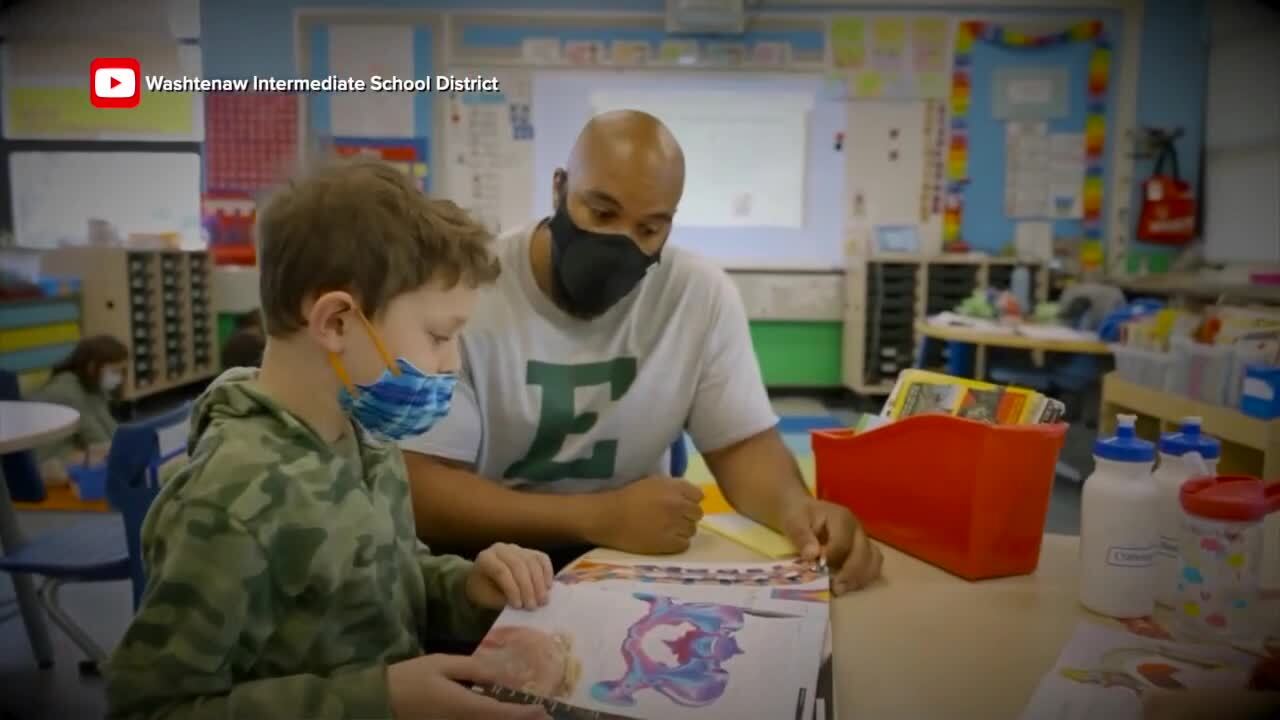 The pilot program, made possible by a special waiver granted by the Michigan Department of Education (MDE), covers most of the costs of EMU's teacher preparation courses, including books and fees, for dedicated para pros already working in area schools.
The program has two tracks, and upon completion of the program, para pros will be certified special education teachers specifically for students with emotional impairments or learning disabilities.
"I knew that I enjoyed working with kids, so I would go to class here and there, but sometimes I would have the money, sometimes I wouldn't," said Harper in reference to paying for school. "But this program gave me the opportunity to actually go ahead and see the light at the end of the tunnel."
Many people are experiencing the same hurdles as Harper to becoming an educator, and many others.
Dr. David Winters, Special Education Department Head at Eastern Michigan University says that's part of why he helped create and launch this program, "There are many, many, many, children that need help, and there are not enough teachers to go around."
According to the National Center for Education, 4% of teaching positions across the nation remain vacant, special education has the worst of it with 7% of positions remaining unfilled.
In Ann Arbor specifically, lack of substitute teachers caused at least five schools to close down during the month of December.
"The school districts continually tell us that they start the school year out with having to use long term substitutes because they have so many positions open," said Dr. Winters.
However, more and more programs are being created to help.
Edu-Staff, a substitute teacher staffing program is offering $100 Amazon gift cards for employee referrals.
Michigan Student Aid is now offering a scholarship program that provides up to $10,000 in tuition for future educators and $9,600 stipends per semester for student teachers.
An apprenticeship program from the Michigan Department of Education is offering new pathways into the field.
After two years in the teacher certification program Harper will be student teaching by this fall. He said, "The program is incredible. It's actually helped me transform my mind from being a paraeducator to being a head teacher."
He says by covering his courses, books, and fees, the teacher certification program has created a pathway for him to be a teacher and hopefully similar programs do the same for more would-be educators soon.
"This program means that I can accomplish my goals to be a teacher, which I believe is a calling for my life," said Harper.