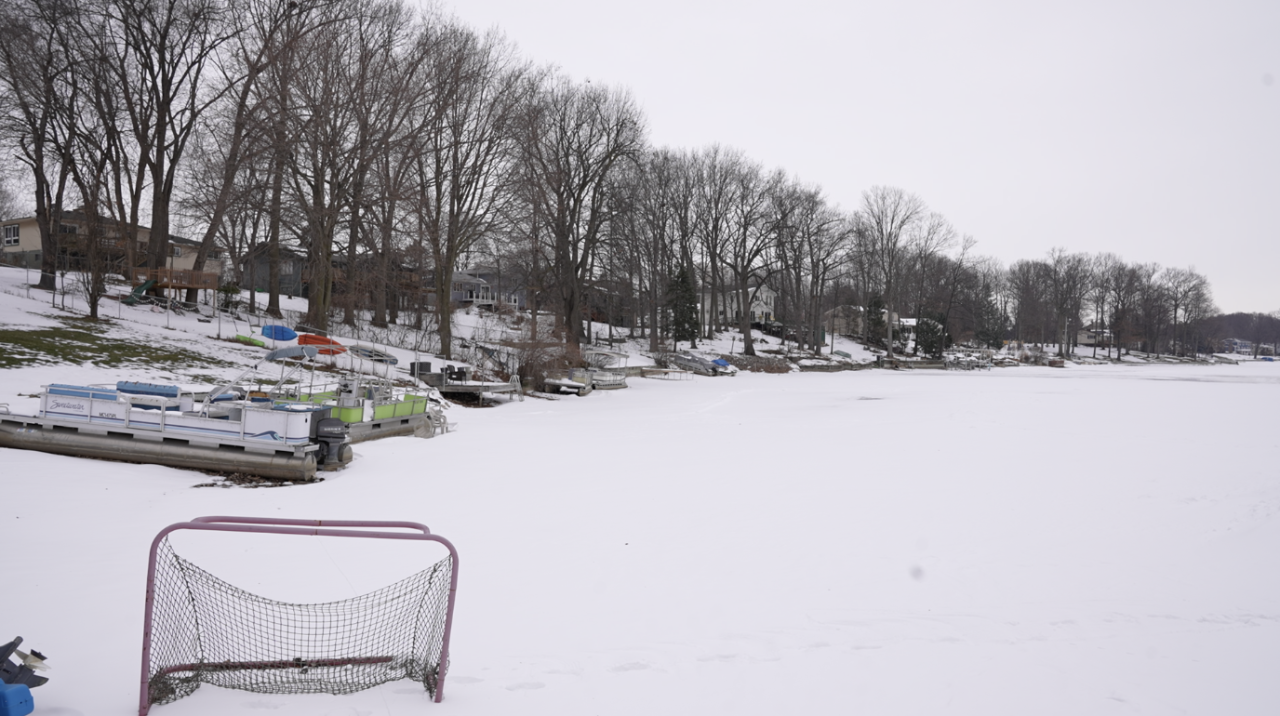 Lake Geneva is a private lake in DeWitt where residents are able to enjoy winter activities such as ice skating, ice fishing and cross-country skiing…this year, anyway.
"Last year the lake hardly froze over solid, at all. So, a couple of neighbors would try to create an ice-skating rink but it would only last a couple days. It would get too slushy, or thaw again," said Shalom Jaconette, who lives on the lake.
Mason resident Kaitlyn Casulli loves pond hockey and ice skating, but she too has noticed that local bodies of water aren't freezing like they used to.
"I've noticed in like, even in the six years I've been here, it seems like the winters aren't getting as cold," Casulli said.
According to Michigan's State Climatologist Jeffrey Andresen they aren't.
"Michigan's getting warmer and it's getting wetter, in terms of the long-term trends and it's especially warmer in the cold season, and at night. So, the amount of time we have subfreezing is generally less than what we've seen in the past," Andresen said.
In Michigan it is, on average, 2 degrees Fahrenheit warmer than it was just 40 years ago, Andresen said, but mean temperatures have leveled off a little bit in the past 10 to 15 years.
"But, the minimum temperatures, the nighttime temperatures, are still increasing. They're warmer than any other time in the last century right now," Andresen explained.
So, what does this have to do with winter sports?
"Sometimes our expectations for things like time on the ice, ice fishing and so forth, they are also altered...by what we expect...based on observations in the past. But it is changing. And, in the Great Lakes region, without question, there's just less ice for less time," Andresen said.
Lansing Mayor Andy Schor also noticed that natural ice skating rinks just weren't lasting as long after an outdoor rink at Washington Park two years ago only held out for about 30 days.
"When we opened it up, we thought it was going to be cold enough and, literally if you go back and look at the footage from FOX 47, I was out there skating, but we were trying to stay away from where the puddles were, and there were some holes and things… Last year we didn't even have that!" Schor said.
So, this year, the city opted for a synthetic ice-skating rink, which is set to open soon outside City Hall.
"And so we chose the artificial ice as something people can do throughout the winter, from as soon as it gets cold to as soon as it starts getting warm when we'll take it up. Theoretically we could leave it over the summer also…" Schor said.
Schor said he doesn't know the exact when the artificial ice rink will open but that he will be out there in his hockey skates as soon as it does…and we just may seem him fall.
Want to see more local news ? Visit the FOX47News Website.
Stay in touch with us anytime, anywhere.
Sign up for newsletters emailed to your inbox.
Select from these options: Breaking News, Severe Weather, School Closings, Daily Headlines and Daily Forecasts.