Around Town 11/8/18: Lansing Veterans Day tribute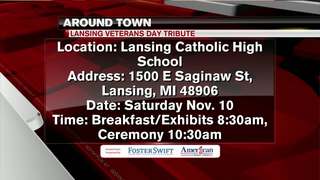 This weekend marks the 100 year anniversary of end of World War I.
Lansing Catholic High School will be holding a Veterans Day tribute this Saturday.
Exhibits and a complimentary breakfast starts at 830am and ceremony begins at 1030am in the morning.
The event is open to public.
We'll have more local events and things to do right here on FOX 47. If you have an event you want to share, send us an email aroundtown@fox47news.com