Argentina coach Jorge Sampaoli is planning major changes to his team for the South Americans' next World Cup match.
In the team's first training session since a disappointing 1-1 draw against Iceland, Sampaoli tried a different tactical approach Monday, with an eye toward the clash against Croatia on Thursday.
He tested a system with three central defenders: Gabriel Mercado, Nicolas Otamendi and Nicolas Tagliafico. Mercado was replacing Marcos Rojo, who put in a poor performance against Iceland in a line of four defenders.
The other notable change in training was that the coach dropped midfielders Lucas Biglia and Angel Di Maria, who also failed to impress in the draw on Saturday. Sampaoli switched Biglia for Marcos Acuna, who was playing on the left wing.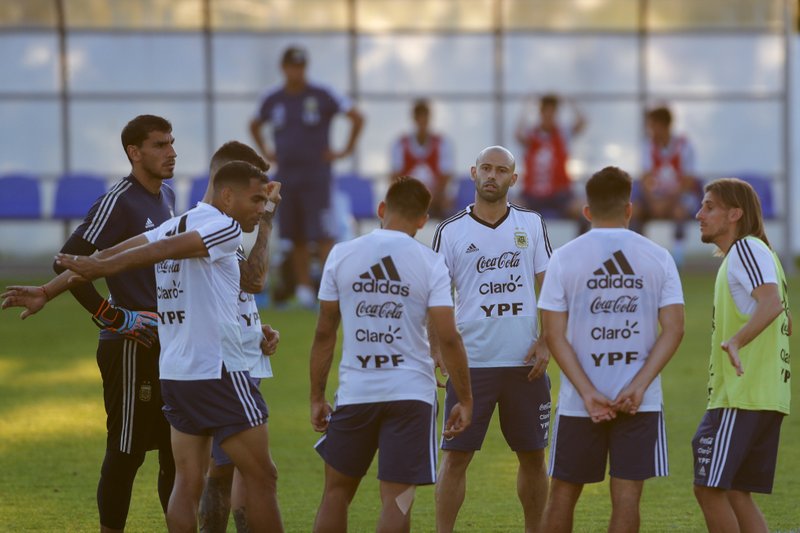 Argentina players at a training session
Javier Mascherano will remain as a defensive midfielder, while right back Eduardo Salvio was being pushed up as a wingback.
"Yes, we worked with different types of systems, on the wings or in the middle, in a hypothetical line of five," Mercado said at a news conference. "Every match needs something, and if it's line of five then we'll do it — if it's a line of four we'll do it. We have a few days left to decide how we will play."
Di María, meanwhile, looks like he will be sacrificed for Cristian Pavon, who impressed Sampaoli in just 20 minutes as a substitute against Iceland.
"I think that Jorge is looking at every position. We'll see what happens and what he decides on the day," the 22-year-old Pavon said. "I feel confident and luckily things are going well for me, but I don't know yet if I'll be a starter."
Rojo, Biglia and Di Maria are part of a group of eight players who were part of the Argentina team that finished as runner-ups in 2014 in Brazil. They also were part of the team that lost the Copa America final against Chile in 2015 and the Copa America Centenario in 2016.
Sampaoli hasn't repeated the same team in the 12 games that he has been in charge of the national team.
The other likely starters for the Croatia match are talisman Lionel Messi, Wilfredo Caballero, Maximiliano Meza and Sergio Aguero, who scored in the first match.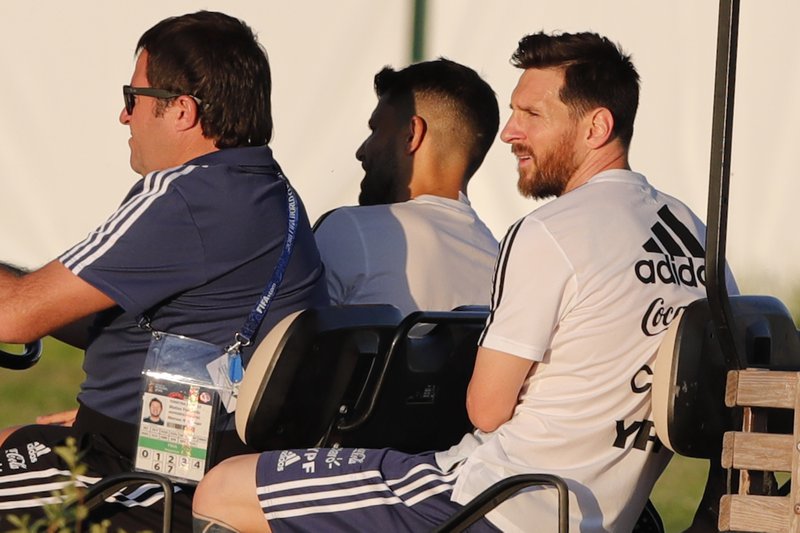 Lionel Messi leaves after a training session
"The team is convinced of what's to come. That's it, we have to look at what we need to correct from the Iceland match, but we can't dwell on it. We have to look forward and win the next match against Croatia."
Croatia is leading Group D after beating Nigeria 2-0.