Marissa Hoop went to re-certify for unemployment benefits on Monday, with the Unemployment Insurance Agency's website giving her a "processing" status.
When she went back to check her case Tuesday, a new and alarming notice that read: "STOP PAYMENT"
"I messaged and tried to get ahold of unemployment and I haven't received anything back," said Hoop, an expectant mother from Taylor. She works for Trinity Transportation while her husband is a truck driver for the Salvation Army. She says both of their jobs are practically gone, leaving the family to rely on unemployment to get through the COVID-19 pandemic.
Hoop is not alone. In WXYZ's The Rebound Detroit Facebook group, more comments of others having the same issue.
Traci Winsor writing: "I'm also having the same problem and so frustrated I did my claim last Wednesday for the weeks prior and it is still saying stop payment indicated."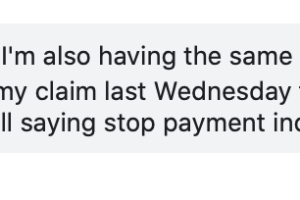 While reaching out to the UIA for answers, 7 Action News received the below press release from State officials.
It details a consumer alert by the UIA, warning of criminals attempting to illegally obtain benefits using stolen and falsified data.
According to the release, the UIA is requiring additional identity verification and claim eligibility authentication.
The additional measures however, have created the "Stop Payment" notice for some existing claims.
The alert adds that those receiving the notice would also receive instructions on how to submit the additional information.
A request for further clarification, including whether the new fraud protections delayed expected payments, was not immediately returned by a UIA spokesperson Wednesday.
However, 7 Action News obtained this correspondence from the UIA to a claimant:
It says if you've received a "Stop Payment" notice, you'll be sent through the mail a UIA 6347 Request for Identity Verification form.
You'll then need to upload a copy of that form along with a passport or state issued ID, and a copy of either your social security card or birth certificate.
You can do so by logging in to your Michigan Web Account Manager (MiWAM) account.
Look for the "I Want To" tab and click "Send Unemployment a Message" to upload your documents.
Additional Coronavirus information and resources:
Click here for a page with resources including a COVID-19 overview from the CDC, details on cases in Michigan, a timeline of Governor Gretchen Whitmer's orders since the outbreak, coronavirus' impact on Southeast Michigan, and links to more information from the Michigan Department of Health and Human Services, the CDC and the WHO.
View a global coronavirus tracker with data from Johns Hopkins University.
Find out how you can help businesses and restaurants struggling during the pandemic.
Also, get information about Rebound Mid Michigan, with stories, information and more about coming back from COVID-19
Join the Rebound Mid Michigan Facebook Group.
See complete coverage on our Coronavirus Continuing Coverage page.