LANSING, Mich. — In this week's Workers Wanted Wednesday we are spotlighting McLaren Greater Lansing. Currently, they are looking for the following positions: Respiratory Therapist.
.
Read below to find out more about the position.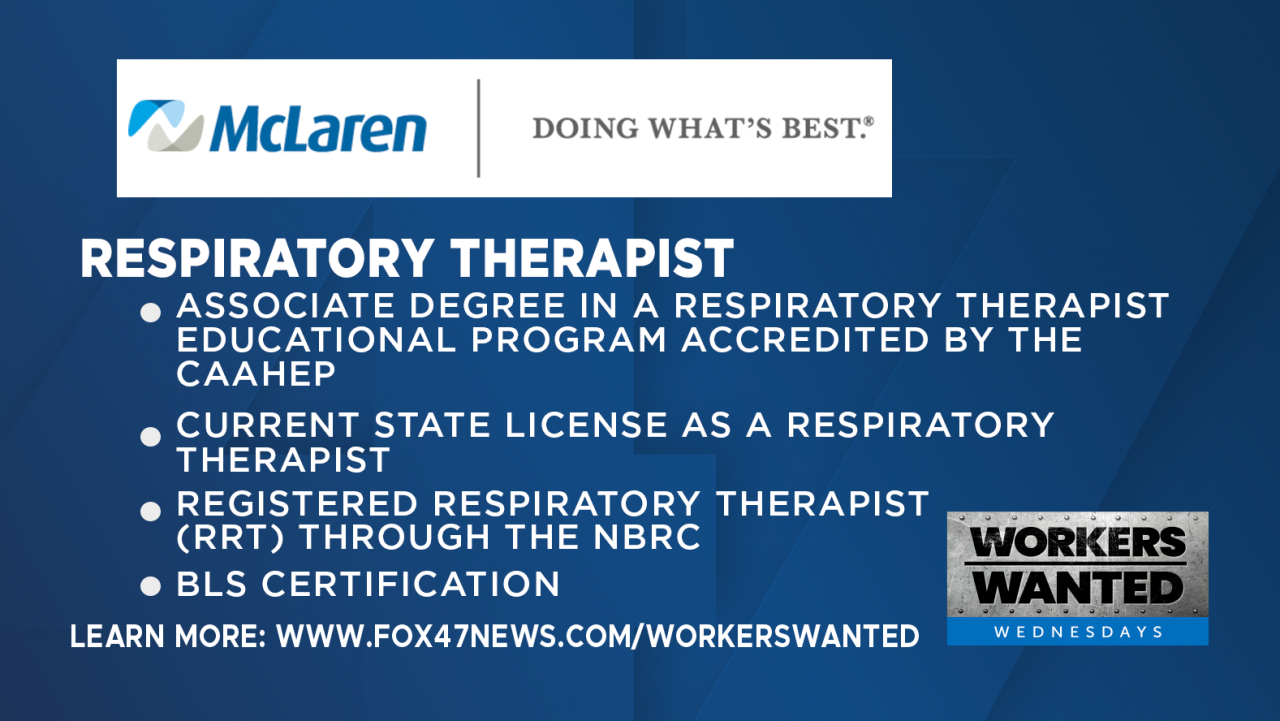 Business Name:
McLaren Greater Lansing

Job Title:
Respiratory Therapist

Job Description:

Position Summary: Provides respiratory care services to patients who require emergency care, intensive care, therapeutic treatment, invasive and non-invasive monitoring, diagnostic testing and patient education for pulmonary and cardiopulmonary disorders. Monitors and maintains equipment and participates in quality assurance and improvement activities.

Essential Functions and Responsibilities:
1. Interviews, examines and assesses patients with breathing or cardiopulmonary disorders.
2. Consults with physicians to develop patient treatment plans. Creates therapy programs for patients based on the instructions of physicians and assessment findings.
3. Performs diagnostic tests such as measuring lung capacity, takes blood samples and uses a blood gas analyzer to test oxygen and carbon dioxide levels.
4. Treats patients using a variety of methods, including chest physiotherapy, aerosol medications and non-invasive methods such as CPAP and BIPAP therapies. May connect, monitor, and treat patients who cannot breathe on their own to ventilators.
5. Monitors and records the progress of treatment.
6. Instructs and monitors respiratory therapy interns during clinical rotations throughout hospital.
7. Teaches patients how to use treatments.
8. Operates and maintains respiratory equipment. Assists in the review and evaluation of equipment and supplies.
9. Maintains professional and technical knowledge by attending educational workshops; reviewing professional publications; establishing personal networks; participating in professional societies. May develop and conduct in-service training programs.
10. Participates in departmental quality assurance and improvement program. Assists in the review and/or development of departmental policies and procedures in order to improve work processes, enhance customer satisfaction, and reduce waste and expenses.
11. Maintains all required documentation, logs, charts, and forms and records in paper and electronic formats.
12. Performs other related duties as required and directed.



Qualifications / Requirements:


Required:
• Associate degree in a Respiratory Therapist Educational Program accredited by the Commission on Accreditation of Allied Health Education Programs (CAAHEP).
• Current state licensure as a respiratory therapist.
• Registered Respiratory Therapist (RRT) through the NBRC.
• BLS certification.

Preferred:
• Bachelor's degree.



Physical Demands:

Light Work: Lifting 20 pounds maximum with frequent lifting and/or carrying of objects weighing up to 10 pounds. Even though the weight lifted may be only a negligible amount, a job is in this category when it requires walking or standing to a significant degree, or when it involves sitting most of the time with a degree of pushing and pulling of arm and/or leg controls.


Benefits:

Medical
Dental
Vision
Retirement
Tuition Reimbursement
Sign On Bonus
PTO


Salary:

VARIABLE

Job Application URL:

Click Here to Apply

Want to see more Workers Wanted jobs? Visit Workers Wanted.
View other open positions on our job search site.
Stay in touch with us anytime, anywhere.
Sign up for newsletters emailed to your inbox.
Select from these options: Neighborhood News, Breaking News, Severe Weather, School Closings, Daily Headlines and Daily Forecasts.