LANSING, Mich. — In this week's Workers Wanted Wednesday we are spotlighting McLaren Greater Lansing. Currently, they are looking for the following positions: Medical Assistant.
Read below to find out more about the position.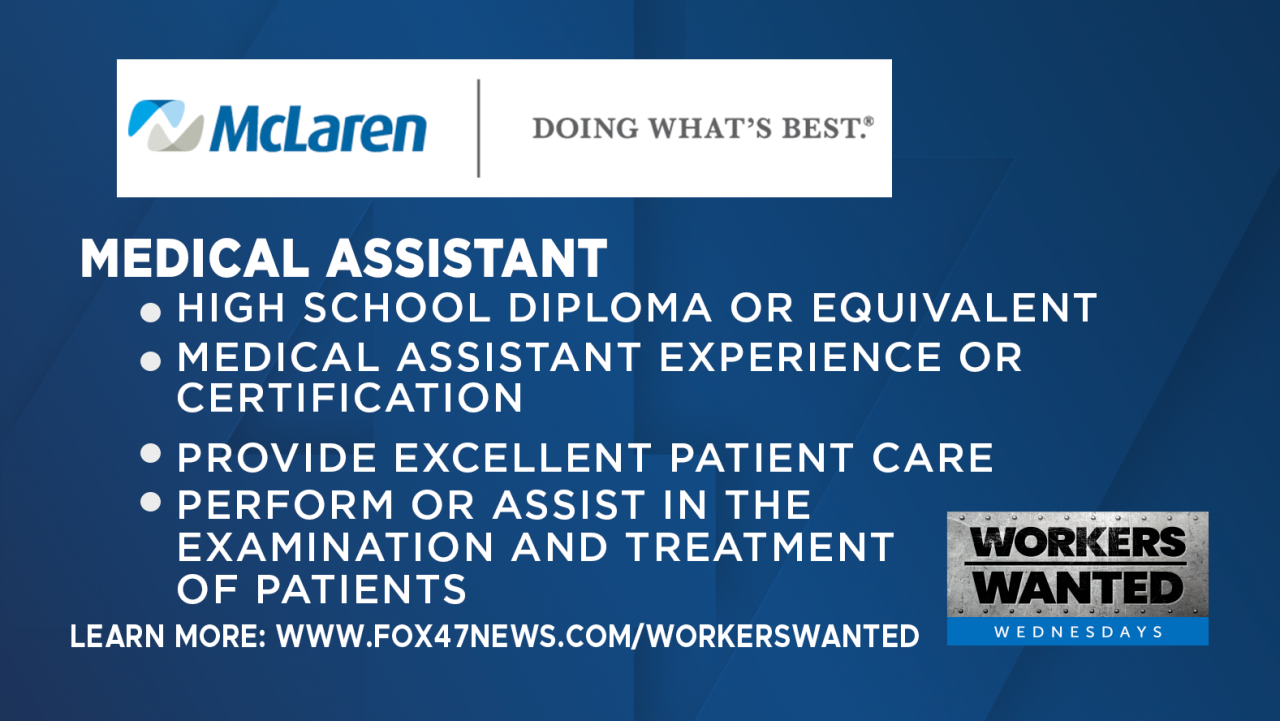 Business Name:
McLaren Greater Lansing

Job Title:
Medical Assistant

Job Description:

Under general supervision, and according to established policies and procedures, will provide excellent patient care by performing or assisting in a variety of medical procedures and tests to assist in the examination and treatment of patients, including but not limited to vital signs, procedures, various treatment, administering injections and venipuncture. Assists with clerical duties to maintain efficient operations.

Essential Functions and Responsibilities:
1. Performs to service excellence standards:
• Responds promptly, professionally and courteously to all customers' needs.
• Cooperates and communicates effectively with all patients, families and staff.
• Contributes to continuous quality improvement efforts.
2. Prepares examining rooms including turning on computer terminals and stocks room with supplies.
3. Organizes forms for physicals, etc.
4. Works collaboratively with provider to assists in providing care to patients:
• Collect patient's history.
• Prepares patient and necessary equipment/supplies for visit.
• Documents all interventions, patient/family responses, medication dispensed or prescribed, vital signs, etc. in-patient chart and/or computer system.
• Administers EKGs, PFTs, immunizations, medicines, draws blood, etc. as directed.
• Obtains approval for and phones in prescriptions as directed.
• Completes lab slips and referral forms as directed.
• Assists with routine procedures for gynecological exams, physicals, and office visits, etc.
5. With focus on customer service, takes telephone messages from patients, returns messages, and provides information to others as requested/directed.
6. Functions collaboratively with all staff to ensure continuity of care.
7. May schedule patient appointments as directed.
8. Assists and escorts patients as needed to exam rooms and onto/off from exam tables.
9. As needed, provides for the age specific needs of the population served according to departmental standards, as evidenced by observation, documentation, and feedback.
10. Performs various clerical duties such as photocopying forms, reports, and patient information; typing letters, forms, and labels, etc.
11. Organizes time and prioritizes effectively.
12. Maintains strict confidentiality related to patient information.
13. Regular and punctual attendance.
14. Adheres to infection control/safety guidelines and maintains accreditation standards.
15. Performs other related duties as assigned.



Qualifications / Requirements:

Required:
• High school diploma or equivalent and six months experience as a medical assistant.
OR
• High school diploma or equivalent and completion of one of the following programs: medical assistant, emergency medical technician, nurse assistant, licensed practical nurse or armed services medic program.
Preferred:
• Certified Medical Assistant.
• BLS Certification. May be required at management discretion.
• Electronic medical record experience.
• One-year experience working in medical office with multiple providers.
• Previous experience working in a medical office of the same specialty.


Physical Demands:

Light Work: Lifting 20 pounds maximum with frequent lifting and/or carrying of objects weighing up to 10 pounds. Even though the weight lifted may be only a negligible amount, a job is in this category when it requires walking or standing to a significant degree, or when it involves sitting most of the time with a degree of pushing and pulling of arm and/or leg controls.


Benefits:

Medical
Dental
Vision
Paid Time Off
Retirement


Salary:

Varies
Other Info:
Great opportunity to work with patients in an office setting!

Job Application URL:

https://www.mclaren.org/main/employment-opportunities [mclaren.org]

Want to see more Workers Wanted jobs? Visit Workers Wanted.
View other open positions on our job search site.
Stay in touch with us anytime, anywhere.
Sign up for newsletters emailed to your inbox.
Select from these options: Neighborhood News, Breaking News, Severe Weather, School Closings, Daily Headlines and Daily Forecasts.