Bill to allow Sandhill crane hunting advances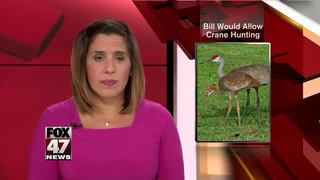 A bill that would establish a hunting season for Sandhill cranes in Michigan passed through the House Natural Resources Committee Wednesday.
The bill's sponsor, Rep. Jim Lower, says the growing Sandhill crane population is causing problems for farmers.
"The Sandhill crane population has increased in Michigan to the point where farmers are experiencing severe crop damage," said Lower, of Cedar Lake. "Sandhill cranes appear in Michigan farm fields in spring and feed on corn sprouts and wheat plants. A hunting season would help control the population and limit damage to farms."
An estimated 23,082 Sandhill cranes were reported in a 2015 Michigan survey. The population has grown an average of 9.4 percent annually over the past decade.
Farmers can obtain nuisance permits to kill the birds themselves. But Lower says the population continues to increase.
"Cranes killed with nuisance permits are a wasted resource, as the meat cannot be harvested. The addition of Sandhill cranes to the game species list will offer hunters an opportunity to harvest excellent meat with the added benefit of controlling the population and limiting damage to crops."
Sixteen other states have already established hunting seasons for Sandhill cranes.
The bill now heads to the House floor for consideration.