Zachary Winston, the brother of Michigan State basketball star Cassius Winston, has died after being hit by a train late Saturday in Albion.
MSU basketball coach Tom Izzo offered condolences to the Winston family Sunday saying, "Our hearts are filled with sorrow for the Winston family. Their pain over the sudden loss of Zachary is unimaginable. It's impossible to find the right words in this moment, other than to say that we will support the family in whatever way they need."
The Michigan State BTN Twitter account also posted a video of Zachary, Cassius and their brother Khy, who is a freshman at Albion. The video was captured in Octoberas Michigan State hosted Albion for an exhibition.
Zachary, middle, and brother Khy were in East Lansing late last month, as Michigan State hosted Albion for an exhibition.
Our thoughts are with the entire Winston family. pic.twitter.com/gARkTaf3BB
— Michigan St. on BTN (@MichiganStOnBTN) November 10, 2019
The Albion Department of Public Safety confirmed that the 19-year-old Albion College student was hit by an Amtrak train traveling westbound around 8:30 p.m. In a Facebook post, the public safety department says Zachary intentionally walked in front of the train.
The collision happened at a pedestrian crossing. Although the public safety department has not released the name of the student, Albion Police Chief Scott Kipp confirms the student was Zachary Winston.
Albion College President Mauri Ditzler released a statement on Zachary's death.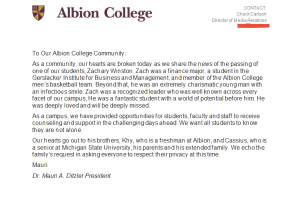 This is an ongoing investigation.