21 Halloween Treats and Snack Ideas
Check out these Halloween Treats and Snack Ideas (w/ recipes) from foodnetwork.com
Pecan-Caramel Spiders
Ingredients
1 1/2 cups toasted pecans
1 cup heavy cream
1 cup granulated sugar
1/2 cup light corn syrup
1 teaspoon vanilla extract
2 tablespoons unsalted butter, in pieces
1/4 teaspoon salt
5 ounces thin black licorice strands, cut into 2-inch pieces
6 ounces semisweet chocolate, chopped
4 ounces milk chocolate, chopped
Chocolate curls or jimmies, optional
Halloween Popcorn Treats
Ingredients
Vegetable cooking spray
3 tablespoons vegetable oil
1/3 cup popcorn kernels
3 tablespoons butter
1 teaspoon pure vanilla extract
6 cups (12-ounces) mini marshmallows
6 fun-size caramel peanut chocolate bars (such as Snickers), cut into 1/4-inch pieces
3 (3-inch) chocolate chip cookies, crumbled
1/3 cup chopped salted almonds,
1/2 cup orange and black chocolate candies (such as M and Ms)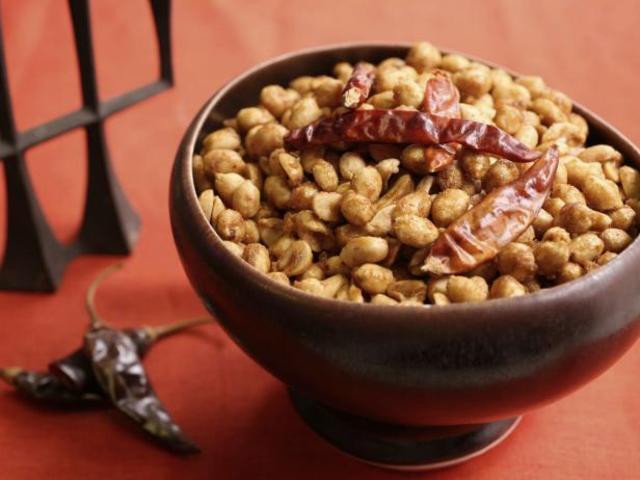 Screaming-Hot Peanuts
Ingredients
1 egg white
1/4 cup sugar
1 tablespoon water
1 tablespoon kosher salt
2 teaspoons cumin
1 teaspoon cayenne pepper
1/2 teaspoon garlic powder
1/2 teaspoon ancho chili powder
2 cups high quality dry roasted unsalted peanuts
5 dried chiles, optional garnish
Michael's Bloody Maria
Ingredients
3 pounds tomatoes (heirloom if possible), cored and roughly cut
2 to 3 jalapeno chilis, stems removed and roughly cut
1 bulb fennel, white part roughly cut
Salt and freshly ground black pepper
3 tablespoons Worcestershire sauce
1 tablespoon extra-virgin olive oil
1 lemon, halved
1/2 cup favorite spice rub
6 to 8 whole red jalapenos
Jalapeno Ice Cubes, recipe follows
Lemon vodka
Mexican Pumpkin Punch
Ingredients
2 cups packed dark brown sugar
4 cinnamon sticks, preferably Mexican
1 29 -ounce can pure pumpkin (about 3 1/2 cups)
2 limes
Splash of rum (optional)
Pineapple chunks and/or pecans, for serving (optional)

Pepita Rice Pudding
Directions
Combine 1/3 cup each golden raisins and rum in a bowl and microwave for 3 minutes. Heat 1/2 stick butter, 1/2 cup green pumpkin seeds (pepitas) and a pinch of salt in a skillet until the seeds are golden and the butter turns nutty brown. Stir in the raisin-rum mixture and 1 tablespoon dark brown sugar. Spoon over store-bought rice pudding.
Angel's Food Cupcakes
Ingredients

Cupcake
Cooking spray
1/2 cup cake flour (not self-rising)
1/2 cup confectioners' sugar
Fine salt
5 large egg whites, at room temperature
1/2 teaspoon cream of tartar
1/2 cup granulated sugar
1 teaspoon pure vanilla extract
1/2 teaspoon lemon zest
Decorations:
1 large piece crystallized ginger
Scant 1/4 cup white candy coating, such as Wilton Candy Melts

Frosting:
4 large egg whites, at room temperature
3/4 cup granulated sugar
1/4 teaspoon cream of tartar
Fine salt
Pumpkin Cheese Ball

Directions

With a mixer, blend 16 ounces room-temperature cream cheese with 1 1/2 cups shredded cheddar, 3 tablespoons minced onion, 2 tablespoons salsa, 2 teaspoons ground cumin and 1 teaspoon minced jalapeno. Scoop onto plastic wrap and use the wrap to form the mixture into a 5-inch pumpkin-shaped ball; chill at least 2 hours. To serve, unwrap, roll in crushed nacho-flavored tortilla chips and press a bell pepper stem into the top.

Sweet and Spicy Pepitas Popcorn Balls
Ingredients
3 (3.5-ounce) bags natural microwave popcorn
2 cups pepitas (hulled pumpkin seeds)
1 cup heavy cream
1 cup sugar
1/2 cup light corn syrup
2 tablespoons unsalted butter, cut into pieces, plus more for forming
1/4 teaspoon fine salt
1 teaspoon vanilla extract
1/2 teaspoon ground cinnamon
1/2 teaspoon cayenne pepper


Vampire Blood Tomato Soup With Muenster Sammies
Ingredients
3 tablespoons olive oil
1/2 fennel bulb, chopped
1/2 large onion, chopped
4 cloves garlic, smashed
1 1/4 teaspoons kosher salt
1 teaspoon fennel seed
1/8 to 1/4 teaspoon crushed red pepper flakes, optional
1 (28-ounce) can plum tomatoes
2 cups homemade vegetable broth or low-sodium canned
2 cups tomato juice
6 basil leaves, torn
1 tablespoon fresh lemon juice
Fresh ground black pepper

Muenster Sammies:
16 (3 1/2-inch square) slices Westphalian Pumpernickel
1/2 cup apple jelly
8 slices muenster cheese
8 slices yellow cheddar cheese
Candy Corn
Ingredients
4 1/2 ounces confectioners' sugar (about 1 1/4 cups)
1/2 ounce nonfat dry milk (about 6 1/2 teaspoons)
1/4 teaspoon kosher salt
3 1/2 ounces granulated sugar (about 1/2 cup)
3 3/4 ounces light corn syrup (about 1/3 cup)
2 1/2 tablespoons H20
2 tablespoons unsalted butter, at room temperature
1/2 teaspoon vanilla extract
2 or 3 drops each yellow and orange gel paste food coloring

Deviled Chicken Lollipops
Ingredients
12 chicken drumettes, skin on
1 teaspoon kosher salt, plus to taste
Freshly ground black pepper
3 slices sandwich sourdough bread, crusts trimmed, torn into pieces
1 clove garlic, roughly chopped
1/4 cup chopped fresh flat-leaf parsley leaves
2 scallions, green and white part, chopped
2 tablespoons unsalted butter, melted
1/3 cup honey mustard
Hot sauce, optional

Pumpkin Seed Brittle
Ingredients
1 teaspoon vegetable oil, plus additional for coating
7 ounces hulled pumpkin seeds (these are the green ones)
1/2 teaspoon cayenne pepper
1/2 teaspoon ground cinnamon
1/2 teaspoon kosher salt
1 pound 6 ounces granulated sugar
12 ounces water

Banana Mummies
Directions
Cut peeled bananas in half crosswise and insert a skewer into each half. Freeze until firm. Microwave chopped semisweet chocolate (1 ounce per skewer) in 20-second intervals, stirring, until melted. Dip the bananas in the chocolate; press 2 candy eyeballs into each and let set, about 10 minutes. Microwave marshmallows (about 2 per skewer) until puffed, 10 to 15 seconds. Stir until smooth; let cool slightly. Scoop up some of the marshmallow (it will stretch into a thread) and wrap it around the bananas. Transfer to a parchment-lined plate and freeze until serving.
Pumpkin Seeds
Seed the pumpkin: Preheat the oven to 300 degrees F. Using a spoon, scrape the pulp and seeds out of your pumpkin into a bowl.

Clean the seeds: Separate the seeds from the stringy pulp, rinse the seeds in a colander under cold water, then shake dry. Don't blot with paper towels; the seeds will stick.

Dry them: Spread the seeds in a single layer on an oiled baking sheet and roast 30 minutes to dry them out.

Add spices: Toss the seeds with olive oil, salt and your choice of spices. Return to the oven and bake until crisp and golden, about 20 more minutes.

Devil's Food Cupcakes
Cupcakes:
Cooking spray
1 cup all-purpose flour
1/2 teaspoon baking soda
1/4 teaspoon baking powder
Fine salt
1/2 cup unsweetened cocoa powder (not Dutch-process)
1/2 cup milk
1 teaspoon pure vanilla extract
10 tablespoons unsalted butter, at room temperature
1 cup sugar
2 large eggs plus 2 large egg yolks, at room temperature

Glaze:
4 tablespoons unsalted butter, cut into small pieces
2 ounces bittersweet chocolate, chopped
1 teaspoon honey
Pinch fine salt

Decorations:
24 red fruit-punch-flavored chews, such as Tootsie Frooties
2 red licorice laces

Caramel, Chocolate, Candy Apples
Ingredients
Vegetable oil cooking spray
6 small apples, washed and dried, stems removed *see Cook's Note
2 (9.5-ounce) bags soft caramel candies, unwrapped (recommended: Kraft Classic Caramels)
1/4 cup pulp-free orange juice
1 (4-ounce) bar 53 percent cocoa dark chocolate, chopped into 1/2-inch pieces (recommended: Nestle Chocolatier)
Assorted small candies, chopped nuts and sprinkles

Special equipment: 6 craft or thick wooden sticks

Witch's Brew
Ingredients
1 (6-ounce) package lime gelatin
2 cups boiling water
3 cups chilled pineapple juice
1 (2 liter) bottle chilled lemon-lime soft drink or ginger ale
2 cups chilled vodka, optional

Special equipment:
1 large black plastic cauldron (available at party or craft stores)
1 punch bowl that fits inside the cauldron
1 plastic hand (available at party supply stores), sterilized in hot water
1 block dry ice (available at supermarkets, ice cream shops or ice companies)
Spider Bites
Ingredients
1 (12-ounce) package semisweet morsels
1/2 cup creamy peanut butter
6 cups pretzel sticks

Deviled Ham Eyeball Sandwich
Ingredients
20 slices white bread, such as Arnold Brick Oven White Sandwich Bread
2 cups smoked cooked ham, chopped (about 8 ounces)
1/3 cup mayonnaise
1 tablespoon honey
1 tablespoon Dijon mustard
1 tablespoon pickled relish
1/2 teaspoon Worcestershire sauce
3 dashes hot sauce, such as Tabasco
Kosher salt
10 pimento-stuffed green olives, sliced in half
Ketchup, for squirting
Special equipment: 2 1/2-inch round cookie cutter
Spiced Pumpkin-Raisin Cookies
Ingredients
1 cup all-purpose flour
2/3 cup old-fashioned oats
1 teaspoon ground cinnamon
1/2 teaspoon baking soda
1/2 teaspoon fine salt
1/4 teaspoon ground allspice
3/4 cup raw sugar, plus additional for sprinkling
1/2 cup canned pumpkin puree
1/3 cup vegetable oil
1 tablespoon pure maple syrup
1 teaspoon vanilla extract
1/2 cup raisins