Best Halloween Movies for Kids
While some of the spooky, scary elements of Halloween might be a bit much for children, these movies are perfect for younger ones during the holidays.
After Barbara and Adam Maitland are killed in a car crash, they find themselves trapped as ghosts in their beautiful New England farmhouse. Their peaceful 'existence' is disrupted when a yuppie family, the Deetz's, buy their house. The Maitlands are too nice and harmless as ghosts and all their efforts to scare the Deetz's away are unsuccessful. They decide to call to Beetlejuice, a people-exorcizing ghost, for help.

You can access the movie from the Capital Area District Library

here - https://opac.cadl.org/record=b1972641~S15
A peculiar boy battles ghosts, zombies and grownups to save his town from a curse.
The "King of Halloween" is tired of planning the same old Halloween festivities year after year, so after finding a door to Christmas Town he decides to try to stage that holiday instead. Works as a Halloween or Christmas movie!

From IMDB: Jack Skellington, king of Halloween Town, discovers Christmas Town, but his attempts to bring Christmas to his home causes confusion.
Run time: 1hr 16 minutes
PG
Director: Henry Selick
Writer: Tim Burton, Michael McDowell
Stars: Danny Elfman, Chris Sarandon, Catherine O'Hara
http://opac.cadl.org/search/X?t:Nightmare+Before+Christmas&m=3&m=u&m=1
Five pups known as the Buddies must stop Warwick the Warlock to save the world from his scheming tricks.
There a lot of Jim Henson puppets in magical movie made especially for kiddos wishing a goblin might take a away a younger sibling. Best part: David Bowie!
Along with trick-or-treating and apple bobbing Linus waiting in the pumpkin patch is a Halloween tradition in this classic Peanuts show.
It's the Great Pumpkin, Charlie Brown (1966)
From IMDB: "The Peanuts gang celebrates Halloween while Linus waits for the Great Pumpkin."
Run time: 25 minutes
Unrated
Director: Bill Melendez
Writer: Charles M. Schulz
Stars: Peter Robbins, Christopher Shea and Sally Dryer
Distributed by: Paramount Pictures
http://opac.cadl.org/search/X?t:It%27s+The+Great+Pumpkin,+Charlie+Brown&m=3&m=u&m=1
A giant peach sprouts in the garden after a boy spills magic crocodile tongues. An enchanting adventure based on Ronald Dahl's classic story.
http://opac.cadl.org/search/X?t:James+And+The+Giant+Peach&m=3&m=u&m=1
Monster House (2006)
A 3D computer-animated family (horror) comedy film about a twelve-year-old who discovers a house in the neighborhood is really a monster.

From IMDB: Three teens discover that their neighbor's house is really a living, breathing, scary monster.
Run time: 1hr 31 minutes
Unrated
Director: Gil Kenan
Writer: Dan Harmon, Rob Schrab
Stars: Mitchell Musso, Sam Lerner, Spencer Locke
http://opac.cadl.org/search/X?t:Monster+House+Musso&m=3&m=u&m=1
A teen is surprised to learn his neighbor's father is R.L. Stine, infamous author of the "Goosebumps" series.
http://opac.cadl.org/search/X?t:Goosebumps+Black&m=3&m=u&m=1
If only we could all call a ghost removal service to help us get rid of ghosts in our homes! Watch the 1984 comedic classic.
http://opac.cadl.org/search/X?t:Ghostbusters+Murray+Aykroyd&m=3&m=u&m=1
In this story of Dracula and his daughter the audience learns even monsters need a spooky vacation from time to time.
Hotel Transylvania (2012)
From IMDB: Dracula, who operates a high-end resort away from the human world, goes into overprotective mode when a boy discovers the resort and falls for the count's teenaged daughter.
Run time: 1hr 31 minutes
Unrated
Director: Genndy Tartakovsky
Writer: Peter Baynham, Robert Smigel
Stars: Adam Sandler, Kevin James, Andy Samberg
http://opac.cadl.org/search/X?t:Hotel+Transylvania+Sandler&m=3&m=u&m=1
Harry Potter is an outstanding series that really hooks both readers and movie aficionados. Magic and witches galore!
http://opac.cadl.org/search/X?t:Harry+Potter+and+the+Sorcerer%27s+Stone&m=3&m=u&m=1
In this stop-motion animated film, a boy uses science to bring his beloved dog back to life. Another creative masterpiece by Tim Burton.
You do not want to miss Bette Midler singing "I Put a Spell on You" in this comedic family favorite.
Hocus Pocus (1993)
From IMDB: "After 300 years, three sister witches are resurrected in Salem, Massachusetts on Halloween night, and it's up to two teenagers, a young girl, and an immortal cat to put an end on the witches' reign of terror once and for all."
Run time: 96 minutes
Rated PG
http://opac.cadl.org/search/X?t:Hocus+Pocus+Midler&m=3&m=u&m=1
This 80s classic is only a little scary and a lot sweet (as candy corn)! Kids will love meeting the alien far from home in this notable Steven Spielberg film.
http://opac.cadl.org/search/X?t:E.T.+The+Extra-Terrestrial&m=3&m=u&m=1
Our favorite cartoon monkey is curious about a hat-stealing scarecrow in this Halloween-themed movie. Perfect for the pre-school crowd.
http://opac.cadl.org/search/X?t:Curious+George+Boo+Fest&m=3&m=u&m=1
Bunnicula is an adorable vampire rabbit who enjoys playing tricks to scare his friends. Speaking a special monster language, he will do anything to keep his friends safe.
Casper the friendly ghost gently haunts a mansion in Maine, but when he meets Kat he quickly secures her friendship and falls in love. A very cute movie.
Casper (1995)
From IMDB: "A paranormal expert and his daughter bunk in an abandoned house populated by 3 mischievous ghosts and one friendly one."
Run time: 100 minutes
Rated PG
Director: Brad Silberling
Writers: Joseph Oriolo, Sherri Stoner and Deanna Oliver
Stars: Bill Pullman, Christia Ricci and Devon Sawa
Distributed by: Universal Pictures
http://opac.cadl.org/search/X?t:Casper,+the+friendly+ghost&m=3&m=u&m=1
Coraline, a fearless leader enters a door to an alternative world where she quickly finds she must rescue her family. An original children's horror by master storyteller Neil Gaiman.
This Disney classic involves World War II and Nazi invasions, but it is presented in a gentle manner that is sure to prompt family discussions.
http://opac.cadl.org/search/X?t:Bedknobs+And+Broomsticks&m=3&m=u&m=1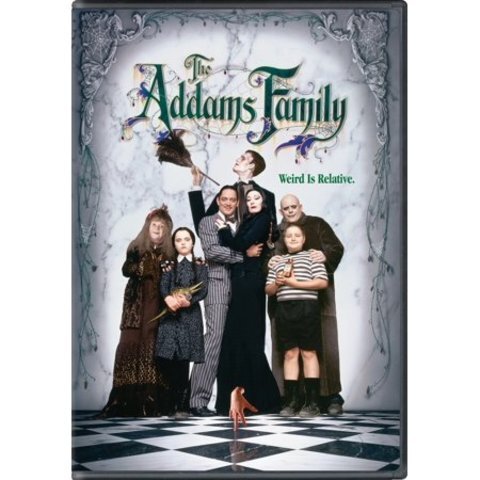 It is the perfect time of year to introduce kids to this cult classic from the 1960s in this updated movie format.
http://opac.cadl.org/search/X?t:The+Addams+Family&m=3&m=u&m=1
Mickey's Monster Musical (2016)
From IMDB: When the toon car breaks-down, Mickie and Minnie meet a spooky cast of characters at a nearby castle. While they are there, they help their new friends solve a mystery in this Halloween themed musical episode.

Run time: 44 minutes
TV-Y
Stars: Tony Anselmo, Dee Bradley Baker, Art Bonilla

https://opac.cadl.org/record=b2155749~S15
Toy Story of Terror (2013)
From IMDB: Woody and the gang are held up at a roadside motel and members of the group start to disappear from everywhere. Woody and set about getting to the bottom of the mystery.

Run time: 22 minutes
TV-G
Director: Angus MacLane
Writer: Angus MacLane, Andrew Stanton
Stars: Tom Hanks, Tim Allen, Joan Cusack

https://opac.cadl.org/record=b2061298~S15
The Dog Who Saved Halloween (2011)

From IMDB: "Zeus & the Bannisters have moved into a new house, just in time for Halloween!."
Run time: 1h 25 minutes
Unrated
Director: Peter Sullivan
Writer: Jeffery Schenck, Peter Sullivan
Stars: Gary Valentine, Dean Cain, Elisa Donovan


https://opac.cadl.org/record=b2116476~S15