Taps 25 Brings Brews, Social Media to Lansing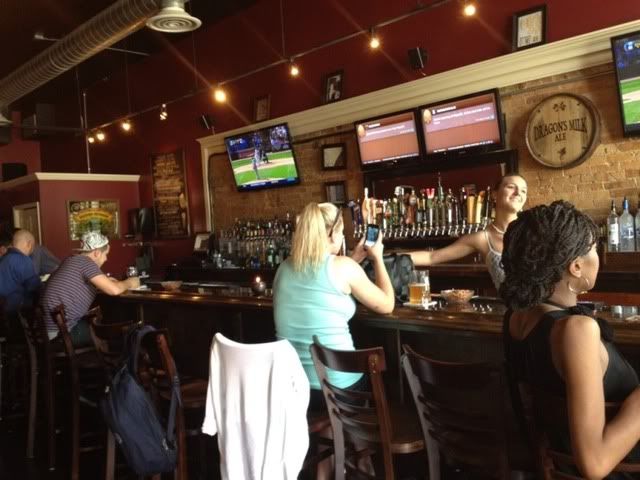 On a sunny May afternoon in downtown Lansing, several working professionals were settling into the cozy interior with an ice-cold brew at Taps 25, a new micro-brew beer pub located across from the Lansing Center. Tuesday marked the grand opening and ribbon cutting celebration for the new downtown business.
Jerome White, owner of Taps 25, along with partner Doug Johns, Jr., envisioned mixing a good old-fashioned beer pub with the latest that social media technology has to offer.
"It's a classic style pub, but with a very tech savvy feeling to it," White says.
From the exposed brick walls to the deep burgundy paint and dark wood accents, Taps 25 has the perfect mix of urban sleek and classic comfort. Not to mention, 26 rotating beers that include Michigan favorites.
To incorporate the social media aspect, Taps 25 has two TV monitors mounted above the bar, with a crawl of recent Tweets and Facebook posts from followers and fans. Messages sent to the Taps 25 Twitter account, with either @Taps25Lansing or #Taps25 in the message, will appear on the screen, adding an interactive and ever-changing element to the typical bar experience.
Lansing Mayor Virg Bernero was on hand for the grand opening and ribbon cutting.
"This is bringing the best of Michigan beer - the best of American beer - right here to Lansing. It's right across from our convention center, in the heart of the Stadium District. This is the kind of thing that will continue to be a beacon for folks to come to downtown Lansing."
Taps 25's location puts it in the middle of a string of popular restaurants and bars, fitting in with the area while also standing out with its style, selection, and social media presence.
For Mayor Bernero, Taps 25 is part of what will be bridging the gap between downtown and East Lansing.
"[Taps 25] is right along the route for our Entertainment Express. We hope soon that we'll have the Bus Rapid Transit to pass through this area to shorten the distance between Lansing and East Lansing. We are the state capital, but we are also the capital of cool."
Along with the ribbon cutting, Mayor Bernero presented White and Johns with a $1,000 Sign Grant from the Design Committee of Downtown Lansing, Inc., in partnership with the Lansing Economic Development Corporation.
Taps 25 already put the money to good use, with their bright, sunny exterior sign promising a warm, fun time in downtown Lansing.
Check out some of our photos from the grand opening event: