Eat Here: American Crepes in East Lansing
French cuisine at American prices - that's the idea behind American Crepes, the new creperie that opened in East Lansing just last month.
Owner Theresa Rice created the store after finding that there was a gap in the market in mid-Michigan. Lovers of crepes will be happy to find traditional favorites on the menu, including a Nutella and Banana crepe on the sweet side, and a Spinach, Feta, Tomato, and Mushroom crepe on the savory side.
Yet some of the other flavors lean more towards American favorites: from a BLT to Peanut Butter and Jelly, there's something for all tastes at American Crepes.


A couple of us at work ordered one sweet and one savory crepe to do splitsies for lunch. We ordered the Spinach, Feta, Tomato, and Mushroom crepe and the Nutella and Banana crepe.
Splitsies was definitely the way to go - it allowed us to get a taste of both crepes without feeling overly full. Plus, according to the American Crepes Facebook page, the Spinach crepe only has 318 calories, which made us feel a bit better about indulging in a Nutella crepe to split as well.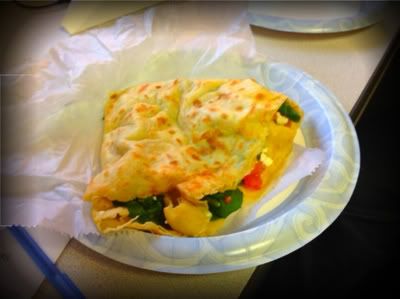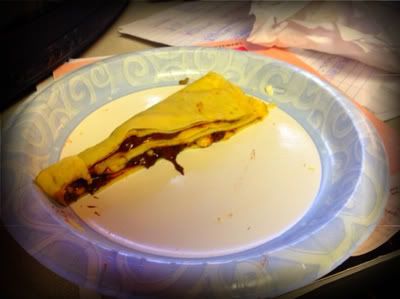 Yummy Nutella and banana gooeyness.
We would highly recommend a visit to American Crepes in the near future. They are located in the Trowbridge Plaza near Korea House and are open seven days a week: 10AM-9PM Monday through Saturday and 11AM-6PM on Sundays.
Visit their website and Facebook page for more information.