BAND2GETHER Against Texting and Driving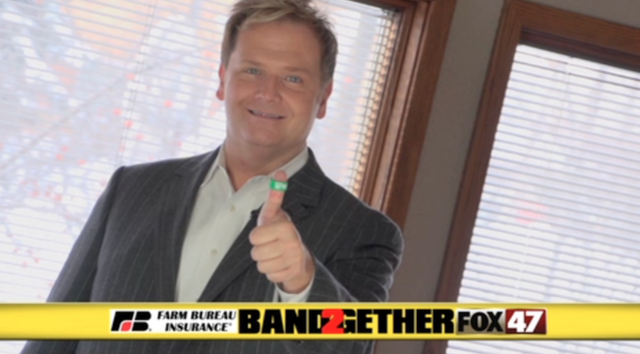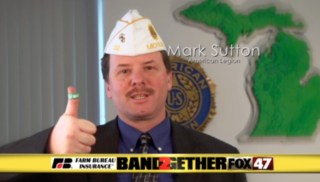 Most people know the scary facts about texting and driving, but that isn't stopping drivers from continuing this dangerous bad habit. So let's go over some of the facts once again...
Did you know:
1 in 5 drivers of all ages admit to surfing the web while driving.

In 2011, at least 23% of auto collisions involved cell phones.

Five seconds is the minimum amount of time your attention is taken away from the road when you're texting and driving - if you are going 55MPH, that is the length of a football field!

27% of adults and 34% of teens say they text while driving. Plus, 15% of young drivers say they've seen their parent text while driving.
That's why FOX 47 and Farm Bureau Insurance are teaming up for BAND2GETHER, an initiative to bring more awareness to the dangers of texting and driving - and put the brakes on this trend before it gets worse.
Learn more about BAND2GETHER from FOX 47's Sarah Swistak during a special report on FOX 47 News:


On April 2, 2014, students from Maple Valley High School hosted an Anti-Texting and Driving assembly. Click here to see photos from the event.
Join the Band and pledge to BAND2GETHER against texting and driving.
Our special thumb bands will help remind you to put your phone away when you're behind the wheel - that text can wait until you arrive at your destination.

FOX 47 and Farm Bureau Insurance will be distributing the bands to local schools, at FOX 47's station in Lansing (600 W. St. Joseph Street, Suite 47), and at Farm Bureau locations across mid-Michigan.
Here is a list of Farm Bureau Insurance locations by county:
CALHOUN COUNTY
77 Michigan Avenue E, Suite 190
Battle Creek, MI 49017

630 Capital Avenue NE
Battle Creek, MI 49017

4744 Beckley Road
Battle Creek, MI 49015
101 W. Main Street, PO Box 56
Homer, MI 49245
15151 C-Drive N, PO Box 229
Marshall, MI 49068
CLINTON COUNTY
12830 S. Old US 27
DeWitt, MI 48820
106 S. Main Street
Fowler, MI 48835

807 E. State Street
Saint Johns, MI 48879

1501 Glastonbury Drive
Saint Johns, MI 48879

EATON COUNTY
430 State Street
Charlotte, MI 48813
722 W. Lawrence Avenue, Suite A
Charlotte, MI 48813

403 S. Clinton Street
Grand Ledge, MI 48837

6250 W. Michigan Avenue, Suite B
Lansing, MI 48917

725 Brookside Drive
Lansing, MI 48917
GRATIOT COUNTY

112 E. Superior Street
Alma, MI 48801

130 W. Saginaw Street, PO Box 188
Breckenridge, MI 48615

225 E. Center Street
Ithaca, MI 48847

308 W. Washington Street
Saint Louis, MI 48880

HILLSDALE COUNTY
206 W. Carleton Road, Suite A
Hillsdale, MI 49242

INGHAM COUNTY
411 W. Lake Lansing Road, Suite A100
East Lansing, MI 48823

700 Abbot Road
East Lansing, MI 48823

2040 Aurelius Road, Suite 1B
Holt, MI 48842

4318 S. Martin Luther King Boulevard
Lansing, MI 48910

700 W. Ash Street, Suite C
Mason, MI 48854

2289 Sower Boulevard, Suite A
Okemos, MI 48864

2175 Association Drive, Suite 250
Okemos, MI 48864

JACKSON COUNTY
1341 W. Parnall Road
Jackson, MI 49201

6007 Ann Arbor Road
Jackson, MI 49201

3105 Wildwood Avenue
Jackson, MI 49202

4254 Page Avenue
Michigan Center, MI 49254

109 E. Main Street, PO Box 159
Springport, MI 49284