OPI's Perfect Shade: Big Apple Red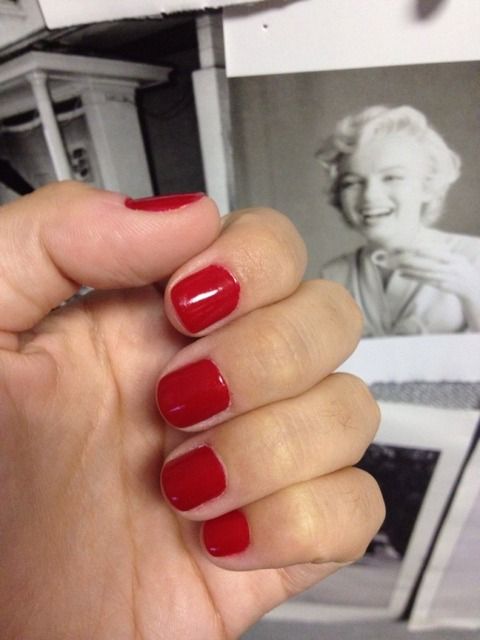 Whenever I'm at a nail salon, it is an automatic habit to check the underside of just about every color of OPI nail polish on the rack to see the color's name.
I'm not sure why the name matters if the color is wonderful, but if anything, it's a way of making a mental note of a wonderful color that I'll be lucky to find again at another salon.
Nail polish colors and their various shades can seem to blend together when placed side by side, but any person who gets manicures or pedicures will tell you that not all shades are created equal.
A subtle hint of orange in one polish could work great on someone with deeper olive skin, but look funny on someone else with lighter skin. And don't even get my started on the various shades of ballerina pink out there.
Nail polish is sort of like perfume - it takes on a different life for everyone who wears it, and once you find your signature, you tend not to stray too far from it. That's how I feel about certain OPI colors.
When I went for a manicure/pedicure at my favorite local spot, Royal Nails in Okemos, I perused the colors until I grabbed two of my go-to shades: Lincoln Park After Dark, and Big Apple Red. Lincoln Park After Dark is a classic dark shade of a murky purple-burgundy. I love it on my nails in the fall/winter, but I opted for it to go on my toes to replace the wedding-friendly pale pink I've had on my toes for weeks.
For my fingernails, Big Apple Red is the classic, perfect red. It reminds me of a starlet's red lips, and looks really nice on short, squared-off nails.
So if you're looking for the best red ever, take a bite out of the Big Apple.
This site uses Facebook comments to make it easier for you to contribute. If you see a comment you would like to flag for spam or abuse, click the "x" in the upper right of it. By posting, you agree to our Terms of Use.