New Local Eats: Meat. Southern BBQ & Carnivore Cuisine
All you need to know is the name of the place to know what to expect: Meat. And if meat's what you're looking for, you're going to find some of the best of it at Meat. Southern BBQ & Carnivore Cuisine in Old Town, Lansing.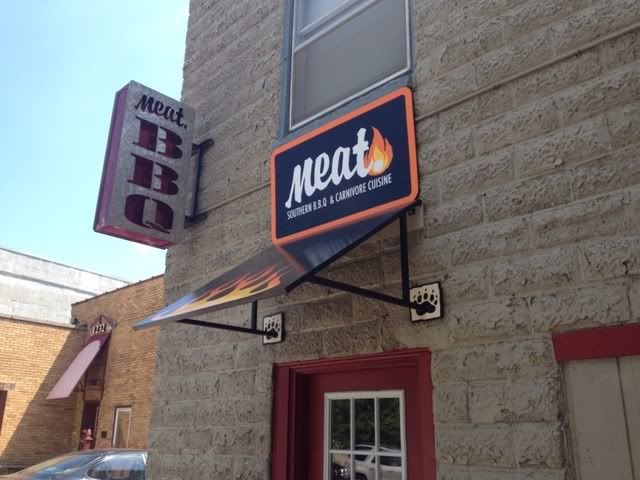 Opening on Turner Street just this summer in the former Wild Rose Cafe location, Meat. offers carnivorous delights that any meat lover would enjoy, from classic pulled pork sandwiches and beef brisket plates to chicken wings and chili.
Add in a bevy of homemade sides like made-to-order mac-n-cheese and hand-cut fries, and you won't be leaving hungry.
Today marks the restaurant's grand opening and ribbon cutting ceremony, but Stephanie and I couldn't resist going earlier and getting lunch at the new local spot.
Besides, word is that Gavin Rossdale of Bush stopped into Meat. yesterday afternoon, just hours before performing on stage at Common Ground Music Festival. People Magazine's website even talked about the singer visiting the local eatery. Sure we were a day late, but it's clear that Meat. is a spot worthy of celebrity attention and patronage.
Stephanie and I both ordered the classic pulled pork "meatwich" with sweet potato fries.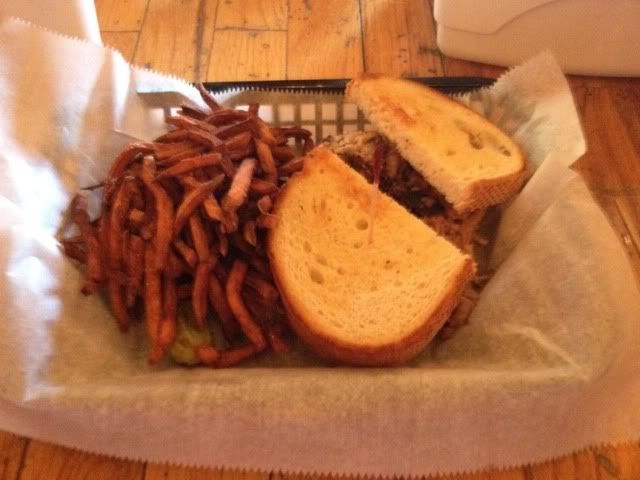 At Meat., the server brings a variety of sauces to the table to help tailor the meat to your liking, from a spicy Cherry Bomb, Peach Bourbon, to a more mild maple-infused sauce. Pickles, jalapenos, and slaw could also be added to the sandwich at your request.
The pulled pork was smoky and full of flavor, and the shoe-string cut fries were a delicious accompaniment.
Meat. is open for lunch and dinner, and I'm sure we'll be back soon to get their mac-n-cheese and pork ribs, which are available after 4PM.
The restaurant is also in the process of obtaining a liquor license.
Meat. is located at 1224 Turner Street, Lansing, MI. They are open Monday - Saturday, 11AM-9PM. They will be open later for festival hours this summer.
This site uses Facebook comments to make it easier for you to contribute. If you see a comment you would like to flag for spam or abuse, click the "x" in the upper right of it. By posting, you agree to our Terms of Use.