Why Not Try: A Gallery Wall
Near the top of the list of my top homes in cinematic history is the Tenenbaum's residence in The Royal Tenenbaums (the McAllister's house in Home Alone and the Banks' house in Father of the Bride also top the list).
What I love most about the Tenenbaum home is that the walls are covered top to bottom with pieces of art and other artifacts.
It was gallery walls like these that inspired me to want something similar in our home.
And when I started collecting and receiving pieces of art with foxes on them, it seemed like the perfect collection to begin a gallery wall on the bare space at the top of our steps.
Foxes are now a collectible for me. I've already blogged about my growing collection of fox ornaments, and truly the inspiration came from the fact that our little dog Zuzu is always compared to a fox.
Between art fairs, retail stores, and Etsy.com, I've amassed a small collection of fox-themed art pieces. After some procrastination, we finally spent an afternoon buying frames, plotting out the space, and hanging all of the pieces we had.
Since then, we hadn't added much to the wall of foxy flair, until we received a gift card to Saper Galleries in East Lansing for Christmas this past year.
After some perusing, we stumbled on the Dr. Seuss collection of prints, and instantly zeroed in on the Fox in Socks print. It would be a perfect addition to the fox gallery wall.
We picked it up a month ago from the gallery and hung it this past weekend. Instead of going with a black frame to fit with the monochromatic look we gave the wall initially, we went for a bold red frame that would make it pop even more.
I love our gallery wall because it allows us to hang anything and everything we want on it, with a sense of organized chaos. Nothing has to be too perfect, and the more eclectic, the better.
Check out some photos of our gallery wall: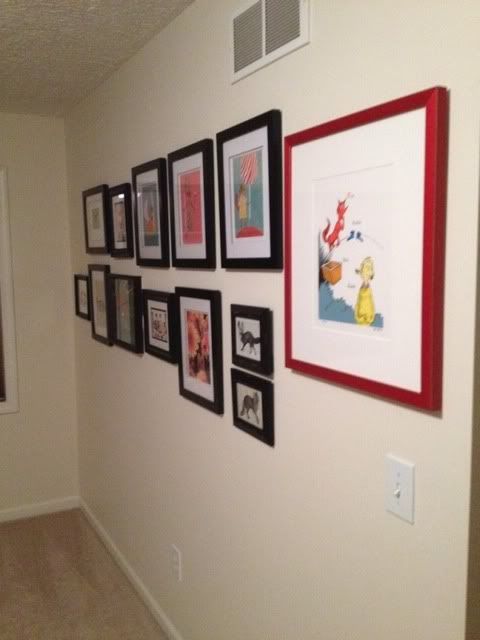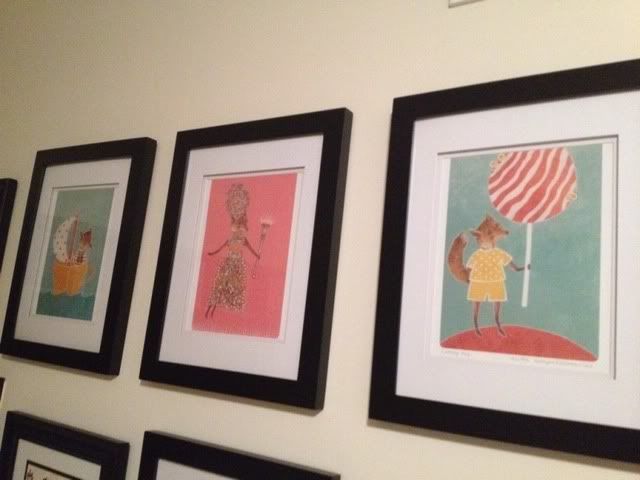 These three prints were from Etsy seller Joutomaa of Finland.She has very whimsical pieces.

These were acquired from a variety of places. Clockwise from top: Ann Arbor Art Fair, Etsy, Z Gallerie, and Etsy again.
Tips for creating your own gallery wall:
Figure out what you want to frame. Maybe you already have a couple of random pieces that never made it to the wall after a move, or aren't sure where to put things. Gather them together and then frame other pieces to go with them. Anything goes: a cherished letter, pressed flowers, art from childhood, photography, or even magazine clippings all have their place.

Plot out your arrangement on the floor. Find a nice open space and arrange your framed pieces the way you'd like to have them hanging on the wall of your choosing. This is almost like a game of Tetris - figure out how smaller pieces can fit in the space left by other larger frames, and don't make it too perfect. Once you have everything arranged, take a photo so you can remember the layout as you begin to hang the pieces.

Leave room for additions. Our wall is pretty compacted into a section of the wall so it didn't look unfinished, but there's potential for adding more. If you only have a few pieces, start with a cluster in the center and begin to branch it out as you add more to the collection. It's easier to do that instead of having to rearrange the layout later on as new pieces come.
This site uses Facebook comments to make it easier for you to contribute. If you see a comment you would like to flag for spam or abuse, click the "x" in the upper right of it. By posting, you agree to our Terms of Use.