Summer Spot: Gracie's Place Patio, Williamston, Michigan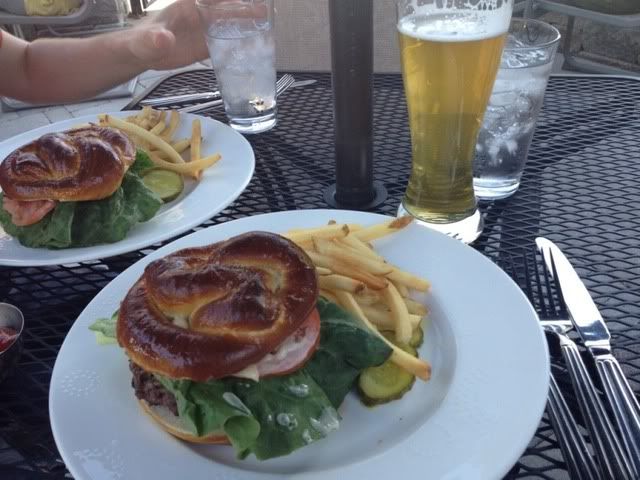 Although my husband and I only live about 10 minutes away from Williamston, it seems that everywhere we tend to go is in the opposite direction. We head west for work, to see movies, to have dinner, to go shopping.
But the truth is, Williamston is a quaint little town with a handful of unique, beautiful food spots.
Gracie's Place in downtown Williamston is a standout, a stylish farm-to-table cafe that expanded its location in 2010 to create the ultimate fine dining experience.
When we were considering a place to eat dinner Thursday night, we wanted a place where we could eat outside on a patio. And instead of heading west towards East Lansing, we decided to head east and enjoy a night at Gracie's Place.
Although everything sounded great on the menu, including the $40 four course chef tasting menu, but both Zack and I were drawn to the Bacon Pretzel Burger: ground short rib and brisket topped with bacon and a garlic aioli on a pretzel bun.
The burgers were delicious and the server recommended a very nice light beer with hints of banana in it.
Other than the food, the ambiance on the patio was relaxing and lovely. The paved oasis just off the parking lot in the back is surrounded by planters filled with flowers, and the patio tables with umbrellas and comfortable chairs made it a relaxed, easy evening.
Other patrons lingered over glasses of wine and Gracie's fresh salads, enjoying conversations, and nothing felt rushed.
Our only other dining experience at Gracie's Place was for lunch, where we ordered Gracie's Half Special. What I love about this special is that for $8, you get your choice of soup, salad, and sandwich, instead of the typical pick-two format.
The helpings are small enough that you can enjoy a taste of everything. I'd recommend ordering the Tomato Basil soup, Cranny salad, and Gouda Grilled Cheese sandwich.
Gracie's Place is perfect for a special occasion - during our lunch visit, a family was celebrating a lovely baby shower - or just for those nights where you want to unwind with a glass of wine and delicious food.
---
Gracie's Place is located at 151 S. Putnam Place, Williamston, MI
This site uses Facebook comments to make it easier for you to contribute. If you see a comment you would like to flag for spam or abuse, click the "x" in the upper right of it. By posting, you agree to our Terms of Use.