So, I Bought Quinn's Rainbow Stripe Dress from 'Glee'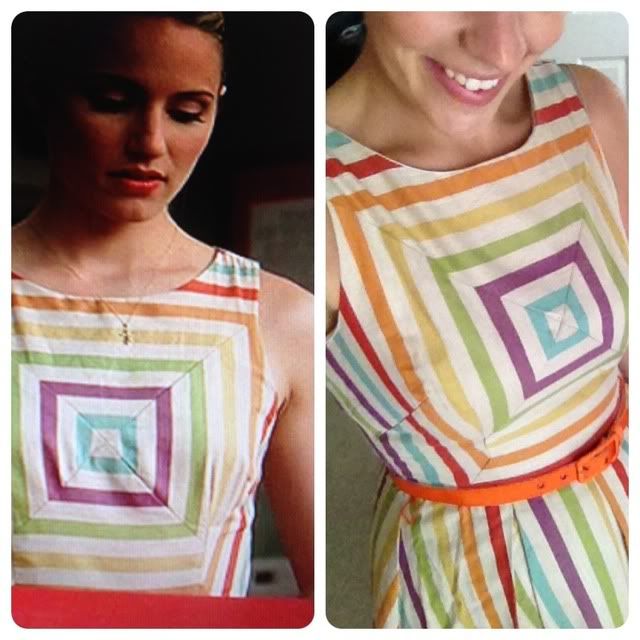 Shortly after revealing my obsession over this Eva Franco dress worn by Quinn on the Glee finale, I ventured over to the designer's website to see if I could order it.
Now, I am not always an impulse shopper, especially when it comes to ordering clothing online from a company or designer I've never heard of before. But there are times when I feel like the stars align for the purpose of something working out ever so perfectly.
In this case, it was that I even found the dress in the first place. And based on the amount of traffic being driven to my original blog post by Google searches for "Quinn's dress glee finale", it's a pretty popular dress by now.
I can thank Fashion of Glee for helping me find this beauty.
And secondly, there were only two size options left. Luckily, one of those was my size. But I still had concerns that the size wouldn't work out, considering I couldn't try it on beforehand obviously.
Still, my heart fluttered when I saw the Eva Franco box on the porch Thursday afternoon, and from the beautiful tissue and label, I couldn't wait to slip the dress on.
And it fits ever so perfectly.
Sadly, it is a mopey, dreary, ugly, rainy day outside. And we won't be expecting the kind of weather we had last weekend any time soon.
So this cheery rainbow striped dress will be waiting on a hanger until the perfect day and occasion to come out and play.
This site uses Facebook comments to make it easier for you to contribute. If you see a comment you would like to flag for spam or abuse, click the "x" in the upper right of it. By posting, you agree to our Terms of Use.