Three Ingredients: Bacon, Corn, and Quinoa Dish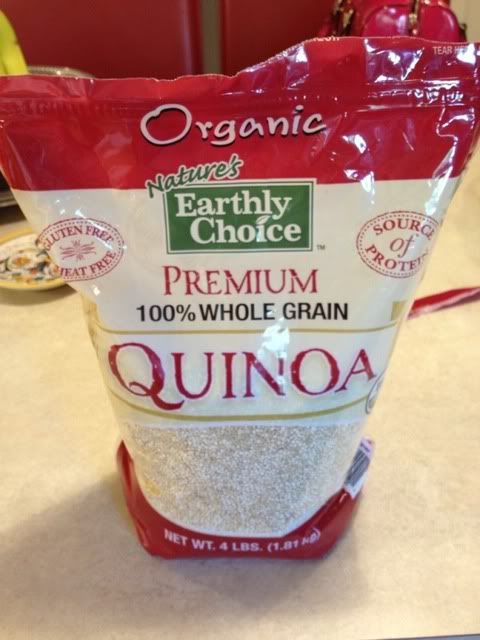 I've become a big fan of quinoa, so imagine my delight when I was strolling down the aisles of Costco and came across this four pound bag of it.
When it came to buying quinoa before, I went with the Ancient Harvest brand Stephanie recommended at the grocery store. That box has about two cups of quinoa in it, and costs about $5 or more.
This four pound bag of quinoa was about $10 - what a deal!
Cooking one cup of quinoa gives you plenty of servings - we always end up with leftover quinoa, even after giving ourselves a decent portion at dinnertime.
Because I have a lot of quinoa to cook with this wonder from Costco, I decided to get creative. I could easily eat quinoa plain and love it, but it was time to get a little Top Chef on this wonderful ingredient.
So let me present my latest quinoa creation: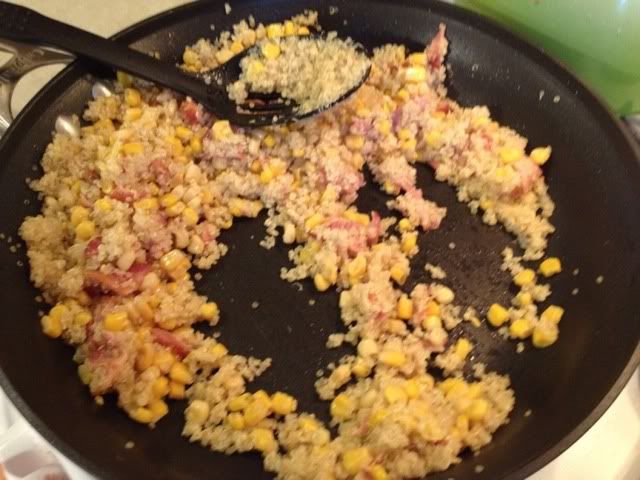 A bacon, corn, and quinoa dish! This ended up being a fun, delicious accompaniment to another Costco favorite of ours: Panko-crusted Tilapia filets.
Here's how you can make this simple, yummy side:
Ingredients
Cooked Quinoa (one cup uncooked quinoa + two cups water. Let boil, then reduce to simmer and cover for 10-12 minutes until all water is soaked up and quinoa is fluffy)
Five Strips of Bacon - I used Kroger brand reduced sodium Applewood Bacon
One Can Yellow Sweet Corn Kernels
Directions
Prepare quinoa per directions - set aside.
Heat skillet to medium-high heat, spray with non-stick spray, and cook bacon to desired crispiness.
Take cooked bacon out of skillet, pat with paper towels, and chop into pieces on a cutting board. Keep some of the grease from the bacon in the skillet and reduce heat to medium-low.
Add cooked quinoa to skillet and stir well.
Add in bacon pieces and strained corn kernels. Continue to stir.
Serve hot.
This recipe yields four larger portions, but could easily feed five-six people as a side with dinner.

We ate this side with the baked Tilapia and green beans.
Feel free to modify with additional vegetables, turkey bacon, sausage, whatever your heart desires.
I hope you enjoy this simple, three ingredient quinoa side dish!
This site uses Facebook comments to make it easier for you to contribute. If you see a comment you would like to flag for spam or abuse, click the "x" in the upper right of it. By posting, you agree to our Terms of Use.