Lunch Pick: Lemon Chicken Orzo Soup from Panera Bread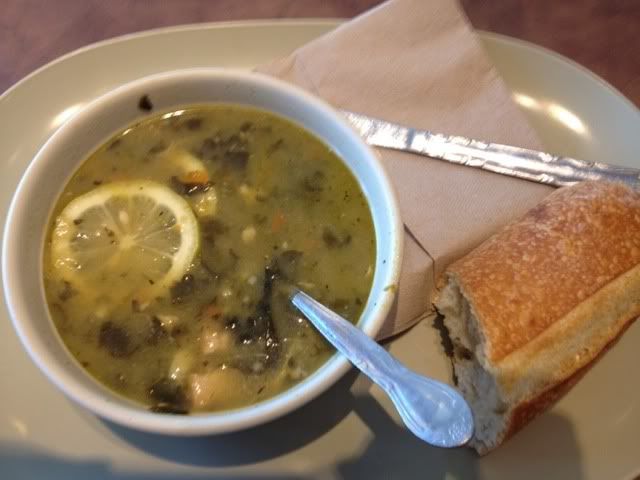 In the wintertime when it comes to battling the sniffles and the chill, chicken noodle soup is the gold standard. But when it comes to enjoying hot soup in the summertime, it all comes down to the flavors for me.
That's why one of my favorite summer soups of all time is the Lemon Chicken Orzo from Panera Bread. The soup is described as "a Mediterranean-inspired soup with chicken, orzo, spinach, carrots, oregano and basil simmered in a lemon infused chicken broth and topped with a lemon wheel."
The beautiful wheel of lemon that floats atop each bowl of this soup adds a colorful and flavorful punch to this delicious creation.
It is also a part of Panera Bread's daily soups, instead of falling into a rotation.
As a side, it is light and wonderful with a salad or sandwich. Today, I ordered it alone in a bowl and enjoyed it with a hunk of Panera's baquette.
One of the best parts about this soup? In a bowl, there are only 150 calories.
If you haven't sampled the Lemon Chicken Orzo from Panera Bread, you don't know what you're missing.
This site uses Facebook comments to make it easier for you to contribute. If you see a comment you would like to flag for spam or abuse, click the "x" in the upper right of it. By posting, you agree to our Terms of Use.