Loving: Meridian Township Farmers' Market
The Meridian Township Farmers' Market is one of my favorite destinations to hit up in the area.
My Saturday mornings felt empty over the winter months when we couldn't head outside to the market, pick up some Purple Carrot and locally-grown vegetables, and enjoy the smells of fresh flowers and kettlecorn.
On May 5th, the Farmers' Market was back up and running with its Spring schedule. Soon, the market will also be open on Wednesdays.
The market, located in the Central Park Pavillion at 5151 Marsh Road in Okemos, features several great local vendors. You can purchase everything from honey to meats to flowers to shrimp and even egg rolls.
This past Saturday, we decided to see what struck our fancy and buy foods that we could use to create a yummy meal for dinner.
The Purple Carrot Truck frequently uses Spartan Country meats for their dishes, so when we saw their stall at the market, we knew we wanted to do a baked chicken. We purchased a whole chicken already butchered into eight pieces for easy cooking. I'll admit that I've had difficulty cooking a roast chicken properly in the past, and have yet to master how to break down the chicken once it is cooked. Having the chicken in eight pieces made it super easy.
We also picked up some fresh asparagus and red skin potatoes from another vendor.
I found this super simple recipe for baking chicken that didn't require much work or ingredients - the chicken turned out perfectly by following this recipe.
I used this recipe for the red skin potatoes, only I substituted garlic salt for the fresh garlic.
For the asparagus, I simply added olive oil to a skillet and let it cook over medium-high heat until tender.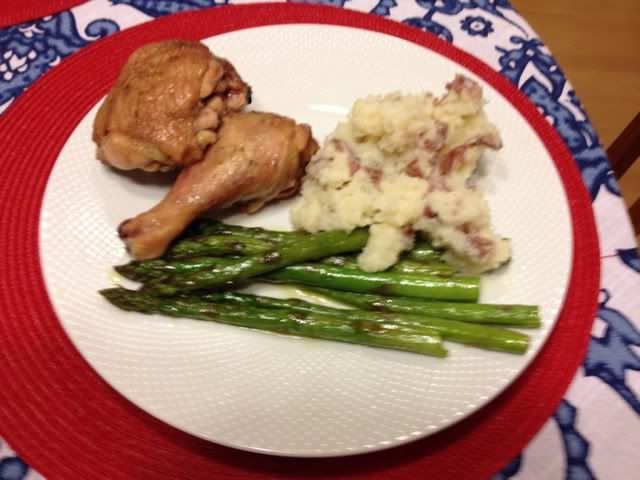 What made this meal super easy to do was that each component could be done in its own area. While the chicken was in the oven, I was boiling the potatoes and then keeping them warm on the stove. Asparagus can also be prepared in the oven on high heat, but I would have had to wait until the chicken was done.
Everything about our meal was locally raised or grown, and made for a very fresh and delicious Saturday dinner.
We'll be frequenting the Meridian Township Farmers' Market throughout the spring, summer, and fall, and I can't wait for more of those local foods to become available.
This site uses Facebook comments to make it easier for you to contribute. If you see a comment you would like to flag for spam or abuse, click the "x" in the upper right of it. By posting, you agree to our Terms of Use.