Cake Batter Blondie Brownies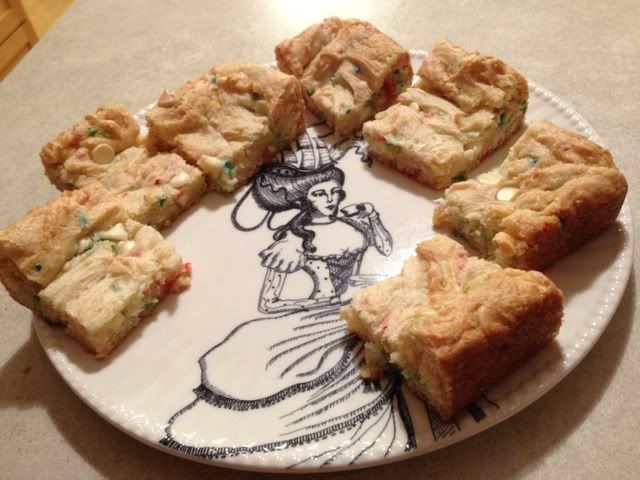 There are times when I get too overwhelmed with all of the wonderful things on Pinterest. Sure, it's great to pin fun recipes and craft tips and 50 ways to braid my hair and tie a scarf, but what I often lack with Pinterest is the follow-through.
However, I didn't need much motivation when I saw this picture of Cake Batter Blondies:
This dangerously yummy and easy recipe was too good looking to pass up. My husband, friends and I absolutely love Funfetti cake mix, so why not use it to make Blondie brownies? This recipe comes from Six Sisters' Stuff.
Mine are pictured above - I decided not to frost them this time around, but I imagine I will have to add some of my homemade almond extract-infused frosting when I make them again for a party.
Cake Batter Blondies
Ingredients:
One box Funfetti Mix (or Yellow Cake Mix with sprinkles added in)
1/4 cup vegetable oil
1/3-1/2 cup milk
1 egg
1/2 cup white chocolate chips
Non-stick cooking spray
Frosting (if desired)
Directions:
Put dry cake mix in a large bowl and add in oil and egg - mix together. Slowly add milk so the batter remains a thick, dense consistency.
Add in white chocolate chips.
Spray a 9x9 baking pan with non-stick cooking spray and add the batter in an even layer.
Bake at 350 degrees for 25-30 minutes.
Once baked, let them cool in the pan for another 20-30 minutes. Add frosting if desired, or keep them plain.
Enjoy!
This site uses Facebook comments to make it easier for you to contribute. If you see a comment you would like to flag for spam or abuse, click the "x" in the upper right of it. By posting, you agree to our Terms of Use.