Creating Pottery at Art Unlimited in Okemos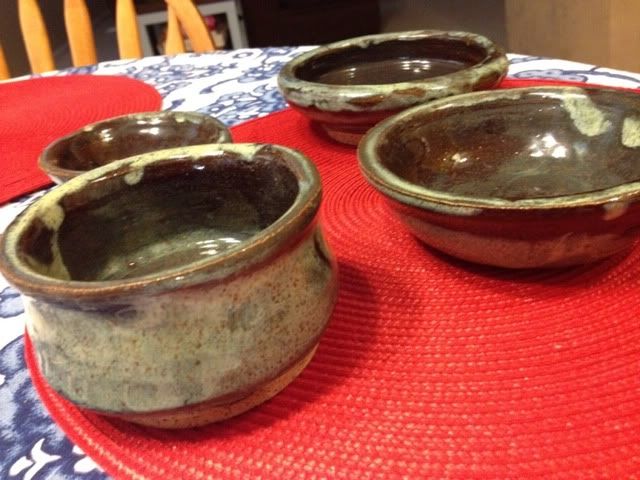 I've always been a fan of the fine arts - from second grade until eighth grade, I attended a summer arts camp in Farmington Hills. My favorite "classes" to sign up for were drawing, musical theater, puppetry, acting, and ceramics.
In attending Cranbrook Schools, where I was fortunate enough to take classes in weaving with actual looms, metalsmithing, painting, photography, and yes, ceramics, I took as many art classes as I could. It meant that I never particularly mastered one of the genres, but I could try all of them out.
Now living in Okemos, I've visited the Art Unlimited studio with my little sisters in law to do 'paint your own pottery' on weekends. The last time we were there, the owner Anne O'Connor told me about the studio's wheel throwing classes. I hadn't done wheel throwing since my freshman year of high school in 1999, and I was eager to do something creative again.
I attended the six-week wheel throwing class, and am planning to do another session that begins next week. What I loved about being a part of this class is that we not only had the opportunity to work together during the 6-9PM class sessions, but we could come in whenever the studio was open to practice and make pieces.
I went into the studio on a couple of Sundays with the skills I learned from our instructor, local potter Pamela Timmons, and practiced on my own time.
Wheel throwing is much more difficult than it looks - let's face it, everyone who saw the movie Ghost thought that it couldn't be that tough to do. While my goal for the end of the class was to become reacquainted with the wheel and perhaps create some mugs, I ended up with some shallow dishes and a couple of dipping bowls.
Last Wednesday, we glazed our pieces, and I went with a similar palette for all of them. You never know what the finished product will look like, which was fun and sort of scary at the same time.
After picking up the pieces that were finished as of yesterday, I'm very pleased with the results for my first go-round.
For the next session, I'm considering doing hand building instead of wheel throwing. While I have no doubt that I'd only get better with practice on the wheel, my new goal is to create a fox sculpture and a series of ceramic magnets.
I would completely recommend attending one of the special event classes at Art Unlimited, or even visiting on a rainy day to paint pottery.
I'm looking forward to giving some of these pieces away as gifts, but I'll probably keep the small bowl pictured on the top left. It's my favorite, and the wild shapes of glaze were a happy accident.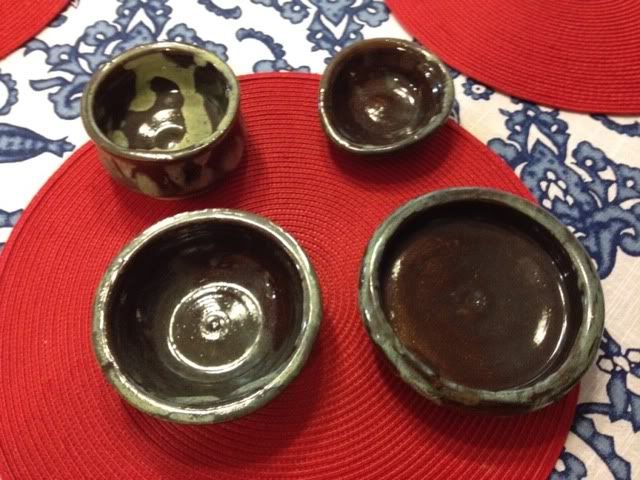 This site uses Facebook comments to make it easier for you to contribute. If you see a comment you would like to flag for spam or abuse, click the "x" in the upper right of it. By posting, you agree to our Terms of Use.