Truth Time: I'm Obsessively Reading 'The Hunger Games'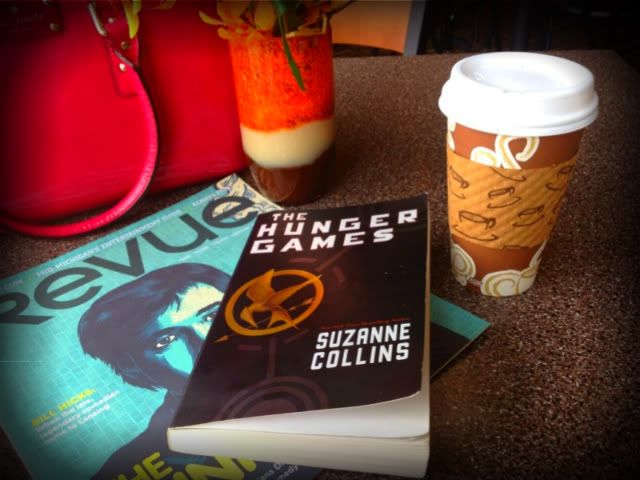 So today it became official... I turned into that girl who goes to the local coffee shop (in my case, Decker's Coffee downtown) to read The Hunger Games on my lunch hour. I started the book on Sunday and since then I've savored segments of time, whether it's five minutes or a half hour, to keep up my pace. I'm hoping to finish the book by tonight or tomorrow.
There are times when I like to pat myself on the back for knowing about something or someone before they become insanely popular - and I will always cherish the photo I have from Fall 2003 with Ari Hest and Matt Nathanson at a free concert at Michigan State my freshman year - but there are also times when I've completely missed the ball.
It's probably because I'm not necessarily the targeted demographic for The Hunger Games trilogy of books, and so I haven't heard about them from my peers in a middle school classroom in between science and English classes.
But my coworkers are obsessed with the books, and went to see the movie on opening night, and I realized as I saw friend after friend talking about it on Facebook or telling me about it over the phone, that I needed to see what the fuss was all about.
And there's something to be said for being able to breeze through this entertaining novel in a way that was impossible when I read The Girl with the Dragon Tattoo and its sequels. From the smaller print to the complicated Swedish names and places and all of the subtleties of the plot, the Millennium Trilogy was at times difficult to get through. Luckily I couldn't put it down, so I forced myself through the meandering, confusing sections.
I'm loving The Hunger Games though, and I imagine that I'd be loving them even more had they been written 10 years ago.
And when I start considering the possibilities of dressing up as Katniss for Halloween and perfecting a cascading braid in my hair, you know you've got me hooked on something.
I might be late to the party, but I'm ready to bust out the balloons and streamers with all of the other Hunger lovers to make up for lost time.
Here's a tutorial I saw online for how to do the Katniss braid... this will take some practice.
This site uses Facebook comments to make it easier for you to contribute. If you see a comment you would like to flag for spam or abuse, click the "x" in the upper right of it. By posting, you agree to our Terms of Use.