Try These: Sally Hansen's Nail Art Pens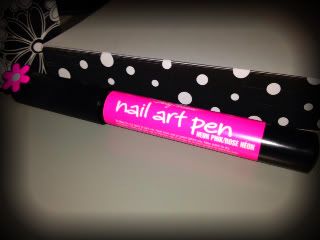 I usually rely on going to a nail salon to get my nails done - I've never been able to master painting the nails on my right hand. I also tend to smudge the polish no matter how long I let them dry, and my cuticles have more polish on them than the edges of my nails do.
Part of what has helped me paint my own nails at home are Sally Hansen's Color Quick Fast Dry Nail Polish Pens - being able to hold them like a pen right near the brush instead of delicately balancing a normal polish wand in my hand is much easier.
But when I was at Ulta last night, looking to scoop up a polish pen in black, I noticed the array of Sally Hansen Nail Art Pens on display. They come in a variety of bright colors that pop against dark polishes, but also darker colors for a lighter polish base. Instead of using a toothpick to painstakingly add designs to a manicure or pedicure, the pens work really well to create little details.
I bought the hot pink color to add some embellishments to my black manicure. Originally I thought of doing polka dots on all of the nails, but then I decided to try a trend that has become really popular with manicures: using a different color or adding flair to one or two nails in particular. With this trend, women often have their ring finger painted differently, sometimes with a metallic that helps accentuate jewelry.
For this manicure, I went with a little hot pink heart on my left ring finger. I love how it plays off of the pink of my watch, and brings attention to my wedding and engagement rings. Plus, hot pink and black are one of the best color-combos.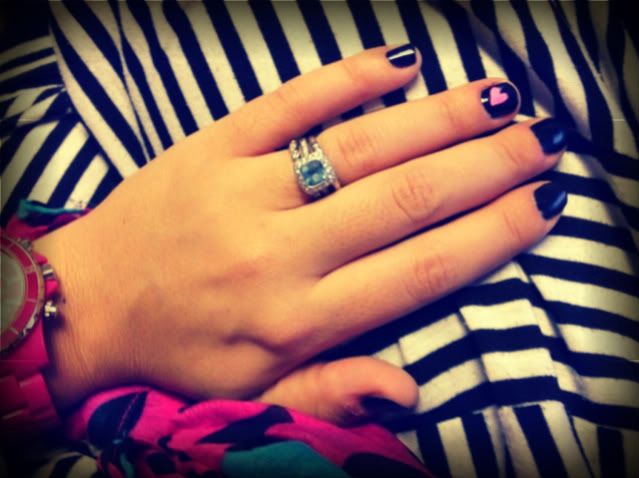 I can't wait to try other designs with my Nail Art pen. Whether it's zebra stripes or spelling out M-S-U in green polish, I'll be good to go with a unique twist on the typical manicure.
This site uses Facebook comments to make it easier for you to contribute. If you see a comment you would like to flag for spam or abuse, click the "x" in the upper right of it. By posting, you agree to our Terms of Use.