Purple Carrot Is Back - All Is Right in the World
For the last few months, it felt as if something was missing. And this week, that something came back with a vengeance.
I'm not talking about the sunshine, or summer dress weather, or the urge to find a hammock to lie and swing in for hours.
No, I'm talking about The Purple Carrot Truck.
From late spring through the month of December, I frequented the Purple Carrot for dozens of meals - from my first Steak and Egg sammy in Old Town on a weekend morning to cherry-themed tapas on a summer evening in East Lansing to numerous You Pick Two sammy and salad combinations all around the Lansing area, the Purple Carrot has always delivered on the yum factor.
In the winter haze, I tried not to think too much about how I missed visiting the food truck. But there would be Saturday mornings when my husband and I began daydreaming about the Meridian Farmers Market and the Purple Carrot's strawberry soup with granola, or B.E.L.T. breakfast concoction of genius.
So as the news was rolling in earlier this week that we'd be having record high temperatures in the area, an even better piece of news landed on my Facebook feed: The Purple Carrot Truck would be up and running again on Thursday and Friday for lunch.
To say I was excited would be a gross understatement.
This afternoon I headed over to the Hannah Office Plaza in East Lansing on the earlier end of their schedule - wouldn't want any of the options limited due to other Purple Carrot fanatics scooping up the items of my desire on the menu.
At just a little before noon, a line was already formed in front of the truck, and people were using up the picnic tables in and around the parking lot.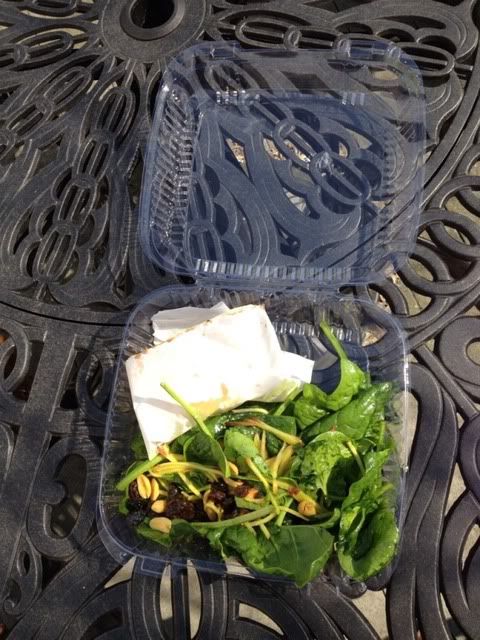 I ordered half of the black bean burger, half the Titus spinach salad, and a carrot cake pop.
The Titus spinach salad is a new favorite: thin slices of apple, peanuts, black raisins, and spinach tossed in a curried vinaigrette.
The truck will be in the same spot tomorrow for lunch from 11:30-2:00PM, and the future schedule is to be determined.
When I was in line waiting to order, I overheard the people around me talking about all of the great things they've heard about the Purple Carrot. I asked some ladies who were waiting for their food, and they gave a similar response: it's all about word of mouth.
And thankfully The Purple Carrot Truck is back again to feed this big mouth their yummy food.
This site uses Facebook comments to make it easier for you to contribute. If you see a comment you would like to flag for spam or abuse, click the "x" in the upper right of it. By posting, you agree to our Terms of Use.