Le Bon Macaron: A Piece of Paris in East Lansing

The French macaron, not to be confused with a Macaroon, is a beautiful, delicate, sweet little treat that feels reminiscent of Marie Antoinette sugary confection decadence. And while a trip to Paris might be on everyone's fantasy wish list but way beyond budget constraints, I've only just now discovered a darling oasis of desserts that is mere miles from our house.
That would be A Piece O' Cake, a local favorite tucked back near the Hobby Lobby off of Grand River Avenue in East Lansing. I've visited the Hobby Lobby dozens of times and never realized that an island of cupcakes, wedding cakes, and French macarons was just beyond it. Until recently.
In line at the Starbucks drive-thru last week, the car in front of me sported an adorable vanity plate (CAKEMOM), and was adorned with bumper stickers for the bakery. But what really caught my eye was this: "le bon macaron". There was a place that made macarons around here?? I looked up the web address and found that le bon macaron and A Piece O' Cake were within the same place, and dangerously close to our house.
On my lunch I made my way to check out this wondrous place.

It's clear by the examples on display that Kelly Kobus, owner and designer, is quite a talent. The walls of the bakery are filled with write-ups from publications, and A Piece O' Cake has been named the 2011 and 2012 Pick in the knot's Best of Weddings.
Although the cupcakes looked and sounded amazing, I was on a mission to pick up some macarons.
The flavors of the macarons rotate weekly, and based on the choices available last week, I went with a mix of salted caramel and cinnamon flavors.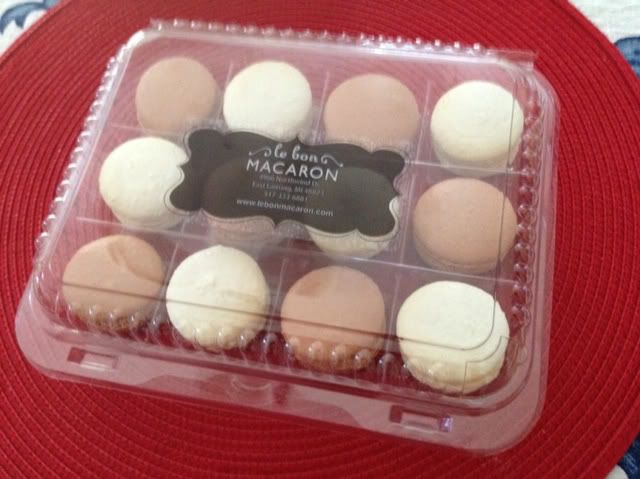 What is so different and delicate about the French macaron is the crunchy-crisp outside of the wafers that is met with a softness in the middle, and the buttery, flavored filling.
French macarons make a lovely hostess gift, and could also be fun for everything from wedding favors to tea party treats to birthdays.
I'll be back to try more of le bon macaron's delightful treats many times again.
This site uses Facebook comments to make it easier for you to contribute. If you see a comment you would like to flag for spam or abuse, click the "x" in the upper right of it. By posting, you agree to our Terms of Use.