Try These: Easy Cinnamon Twist Puffs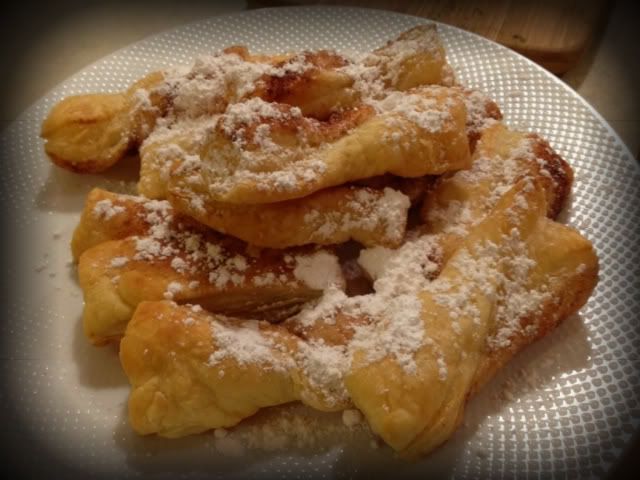 This recipe, adapted from the Food Network, pairs my favorite indulgent items: flaky dough, cinnamon and sugar, and butter. It's like having an elephant ear from the county fair, but super simple to do from home. These were a crowd-pleaser at a family dinner last night.
Easy Cinnamon Twist Puffs
Prep Time: 45 min. Cook Time: 20 min.

Ingredients
One sheet frozen puff pastry
Approximately 2tbsp butter
Cinnamon and sugar mixed, amount as desired
Powdered Sugar for garnish
Tools
Pastry brush
Pizza cutter
Baking sheet
Cutting board
Parchment paper
Directions
Allow frozen puff pastry sheet to thaw on kitchen counter according to directions, about 40 minutes. Leave the frozen puff pastry folded until it has thawed, then carefully unfold.

Once thawed, set oven to 400 degrees and place a sheet of parchment paper on the baking sheet. Melt butter in a microwave-safe bowl.

Unfold thawed puff pastry onto the cutting board. Using pastry brush, sweep butter across the surface of the pastry until even.

Sprinkle cinnamon-sugar mix over the buttered pastry sheet as desired. Using the pizza cutter, cut pastry vertically in half, then cut horizontally every inch or so to create strips. For longer puffs, skip cutting down the middle and just cut into long strips.

Carefully twist strips 1-2 times, then arrange on the parchment-covered baking sheet.

Bake for 20 minutes in 400 degree oven.

When done, arrange on a platter and dust with powdered sugar. Enjoy!
Try serving with an array of dipping sauces. We ate these plain, but they would be delicious with a chocolate sauce to dip or drizzle over the top, or even Nutella. The sky's the limit with these morsels of heaven!
Substitutions
This dessert could easily be made with Splenda sugar or another substitute to be mixed with the cinnamon. I Can't Believe It's Not Butter Spray could be used in place of the melted butter.
This site uses Facebook comments to make it easier for you to contribute. If you see a comment you would like to flag for spam or abuse, click the "x" in the upper right of it. By posting, you agree to our Terms of Use.