Team Draymond, or I Love Day Day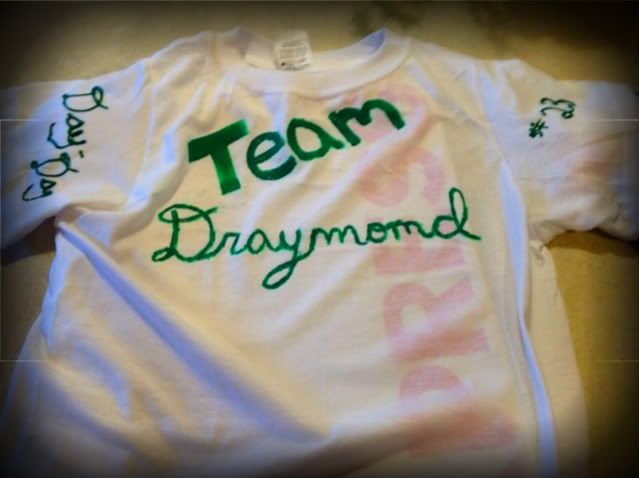 I'm a big fan of making special outfits or t-shirts for particular occasions, and Sunday's MSU basketball White Out game seems to fit the bill. It's Senior Day, where we'll get to see Draymond Green, Austin Thornton, and other seniors kiss the 'S'.
Sunday has also become a bigger deal than we could have imagined when we got our tickets a few weeks ago. Even though the Spartans already have a piece of the Big Ten title, they want the whole thing outright. They can do it with a win over Ohio State - lose, and they split it three ways with the Buckeyes and Michigan.
The Spartans struggled at Indiana earlier this week, but I'm hoping that the guys can come together and really bring everything they have for this game. They've been through so much this season and stayed calm, cool, and collected in even the strangest of games.
I love that Coach Izzo and his teammates call Draymond 'Day Day', so I wanted to have a bit of that incorporated in my shirt. With it being a White Out game, I tried to keep my painting simple. I can't wait to wear it proudly on Sunday and cheer until my voice goes hoarse.
And I'm hoping I'll be able to fill this space with photos and stories of what could be one of the best MSU sports games in a long time.
TEAM DRAYMOND.
This site uses Facebook comments to make it easier for you to contribute. If you see a comment you would like to flag for spam or abuse, click the "x" in the upper right of it. By posting, you agree to our Terms of Use.