Reflections on Oscar Night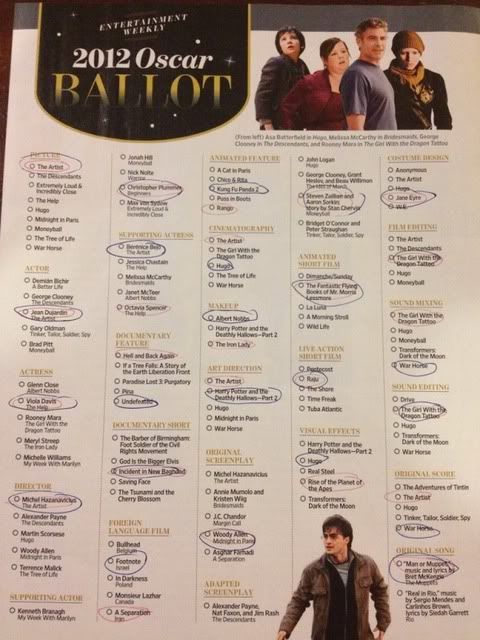 It seems appropriate that awards season and March Madness are around the same time of the year. By the time we got to the Oscars, there were already plenty of awards and honors bestowed upon the films to give an indication of who would be going home with an Academy Award.
Watching all of those others awards shows, reading blogs and magazines, and actually seeing a majority of the movies ahead of time makes for quite the scouting experience, much like what others do to prepare for their NCAA brackets.
During the hours of red carpet coverage and dress-drooling, I filled out my Entertainment Weekly 2012 Oscar Ballot using my knowledge of who has been winning, whom the Academy might vote for, and in many cases (Documentary Short, Live Action Short Film), choosing the one with the best name.
Overall, I got 13 picks correct out of 24 categories. Many of my incorrect picks were the result of a Hugo win, one of the only films we didn't go to see this year. I thought that The Girl with the Dragon Tattoo would at least sweep the technical awards, but unfortunately the only category it won for was Film Editing.
Of the major awards, I was somehow shocked that Meryl Streep won for The Iron Lady as opposed to Viola Davis for The Help. I mean, it's Meryl freaking Streep, and I worship at her altar. I didn't see her as Margaret Thatcher, but there's no doubt she commanded the role. Still, Viola Davis walked away with the SAG Award, and I thought with that peer recognition that she'd be a shoe-in for Oscar. Meanwhile, nothing would have delighted me more than to see Meryl win for her performance as the jubilant Julia Child. Or as Miranda Priestly in The Devil Wears Prada for goodness sake.
As Viola walked the red carpet in her fabulous Vera Wang green dress and natural hair, reminiscent of a sexy Poison Ivy, I thought she looked like a winner. In her first-ever lead role, Viola was the emotional arc and heart of the film. I had to laugh when Meryl Streep referred to the public's view of her winning another Oscar, as I myself groaned and couldn't believe that Viola didn't win it. But Meryl's a class act, and I adore her for still appearing to be humble and appreciative for all of the accolades bestowed upon her.
But without further ado, here are some of my highlights from the 84th Academy Awards:
Jim Rash posing like Angelina after winning "Best Adapted Screenplay" for The Descendants. Before last night, I adored Jim Rash as Dean Pelton on Community, one of my most-favorite television shows. But after impersonating the leggy, showy pose Angelina Jolie struck several times last night, from on the red carpet to the Oscar stage itself, Jim Rash will now be known as having one of the best Oscar moments aside from winning an Oscar. I love seeing when the writers, editors, and other 'behind the scenes' people for films win and get up there... usually they are pretty humble, scruffy, funny people who love what they do and don't care about making the Best Dressed list. Oftentimes, they often get the Best Moments.


Christopher Guest and Co. reunite! I'm a huge fan of Christopher Guest's movies, especially Waiting for Guffman and Best in Show. To see him in one of the Oscar bits with his usual troupe of actors was like a family reunion I didn't want to end (where were you, Parker Posey?). As a test audience for The Wizard of Oz, the accents were fabulously all over the place and the suggestions for what could be changed, perposterous. I wouldn't expect anything else from these wonderful people. What I do expect is another film from the mind of Christopher Guest... this small taste made me crave more.


Martin Scorsese plugging his ears during Will Ferrell and Zach Galifianakis's bit with cymbals. Marching out from the orchestra pit in matching white tuxedos and cymbals, Will Ferrell and Zach Galifianakis brought their deadpan, stone-faced comedy to presenting the award for Best Original Song. While I loved seeing Brangelina get some cymbal crashes in the face - hey, that's what you get for sitting in Jack Nicholson's spot in the front row (miss you Jack!) - but the best was looking a few rows back to see poor little Marty Scorsese holding his ears in pain from all of the crashing and thrashing. Bret McKenzie winning for "Man or Muppet" from The Muppets made the whole segment even more beautiful.


Christopher Plummer continues to give the best speeches of the awards season. This charming man is almost as old as the Oscars themselves - and his win makes him the oldest Oscar winner ever at 82 years old. Yet Christopher Plummer showed that he still has a quick wit, a mischievous side, and a tender heart. I love this man!


Billy's Back! Like a bowlful of macaroni and cheese, Billy Crystal at the helm of the Oscars was like comfort food for the soul. I was frustrated throughout most of the Oscar telecast because of the sound/mic issues, and it was difficult to hear Billy's opening number with how loud the orchestra was playing, but no matter. The man's a pro and he's the male lead in one of my favorite movies of all time (no, not Father's Day. When Harry Met Sally... obviously). Like one reviewer said this morning, he's the kind of host that makes the audience feel at ease and ready to enjoy the show. Yes, there's something about watching something brand new and unpredictable, but how many of us decide to watch that favorite movie for the 500th time in lieu of checking out the new releases? Welcome back, Billy.


For the love of The Artist. Talk about a full circle moment: The Artist is the first silent film to win Best Picture since the original Oscars ceremony over 80 years ago. We had the opportunity to see the film weeks ago at an art theater in West Bloomfield, and it was a delightful dollop of old-Hollywood charm. I've been glad to see it receive as many accolades as it has, and the fact that it is playing at the larger theaters in the Lansing area makes me hopeful about the commercial success of artsy movies in the future. Plus, no awards show is complete without seeing Uggie up on stage with Jean Dujardin once again.
Here are some highlights of the 84th Academy Awards courtesy of Huffington Post:


This site uses Facebook comments to make it easier for you to contribute. If you see a comment you would like to flag for spam or abuse, click the "x" in the upper right of it. By posting, you agree to our Terms of Use.