Reflections on Ash Wednesday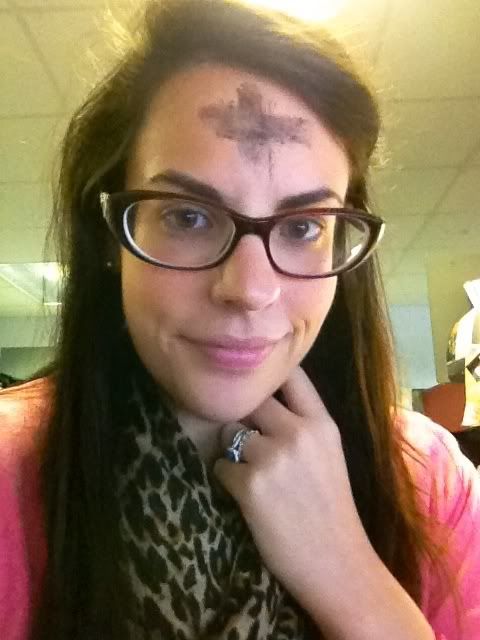 remember that you are dust, and to dust you shall return
Today is Ash Wednesday, marking the beginning of Lent. When I was younger, I never remember attending mass on Ash Wednesday. It wasn't until going to Michigan State that I attended Ash Wednesday mass with a friend at St. Johns in East Lansing.
I think what I love most about Ash Wednesday mass is the idea of wearing ashes on my forehead for the duration of the day. It feels at once a uniting thing with others who have gotten their ashes, but it also makes me feel set apart from others in a way. It's a display of faith and commitment in a quiet and yet noticeable gesture.
The words spoken as the ashes are placed on my forehead also stick with me: "remember that you are dust, and to dust you shall return". During Father Anthony's homily today, he spoke about the season of Lent and compared it to celebrating the New Year. There is a lot of reflection, quest for change, and a new feeling of purpose. This idea of renewal, paired with the circle of life, is very humbling.
We are only here for a short time, and while it's always the right time to make strides towards making a difference, there isn't a better time than Lent.
There are often times during the day on Ash Wednesday where I'll accidentally smear the ashes with my hand as I'm smoothing my hair - it's amazing how easy it is to forget that they are there.
And that I feel is such a metaphor for what can happen during times of the year when there aren't holidays - holy days - to take note of.
It's important to take a stance of wanting to change for the better, to be more connected whether it's within the community, family, or friendship circles. Sometimes we just need a reminder of it - stray pieces of ash falling from our foreheads.
We are here for such a short time - it's time to make the most of today.
This site uses Facebook comments to make it easier for you to contribute. If you see a comment you would like to flag for spam or abuse, click the "x" in the upper right of it. By posting, you agree to our Terms of Use.