And Then There Was Naan
I haven't bought pizza dough or crust in years, and that's because I learned how well Naan works to create quick and yummy individual pizzas. Naan is an unleavened flatbread, a staple at Indian restaurants.
Other than eating "the real thing" at our favorite Indian restaurant in the area (that would be Sindhu in the Hannah Plaza in East Lansing), my favorite brand to buy in the store is Storefire (previously called Fabulous Flats). Stonefire offers traditional, whole grain, and garlic varieties in their two packs.
Stonefire Naan can be found at many local stores, including Toms, Kroger, Meijer, and Foods for Living in East Lansing. On rare trips to Costco outside of the area, I've discovered multi-packs of Naan bread from the same company.
I love that Stonefire's Naan comes with two flatbreads a pack - it makes for the perfect dinner for two.
Although I learned how to make Naan pizzas from my mom, it turns out a lot of places feature the dish. Whole Foods has a line of them, and the Soup Spoon Cafe in Lansing features a daily Naan Pizza special.
Still, what makes creating Naan pizzas at home super fun is the customization factor. If I have extra turkey sausage cooked up from the day before, I can add it to the pizza. Extra tomatoes, onion, leftover chicken breast, cheese, you name it!
I like to serve my baby romaine salad along with the Naan pizza when it comes to a dinner: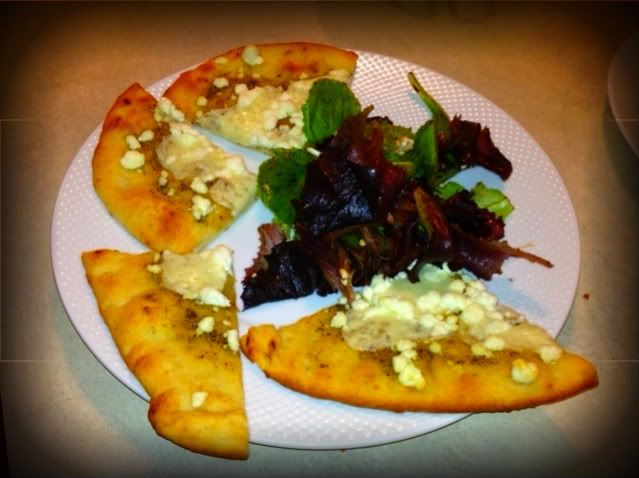 This is what we had for dinner last night. I used the garlic Stonefire Naan with pesto sauce and topped it with thinly-sliced wedges of fontinella cheese and goat cheese crumbles.
While it makes for a great dinner, Naan pizzas can also be served appetizer-style at parties: just slice the pizza into wedges or however you'd like it.
Here's how you can make your own Naan pizza:
Ingredients
Naan bread
Olive Oil
Sauce - either tomato or pesto
Toppings (my favorite cheeses are fontinella, crumbled goat cheese, and mascarpone)
Directions
Set oven to 425 degrees.
Place Naan side by side on baking sheet, and brush about a spoonful of olive oil on each piece, focusing on the outer rim/edges of the bread.
Add sauce of choice to the middle of the bread, spreading with the back of a spoon until you have about an inch of "crust" uncovered along the edges. You won't need much sauce - too much results in a soggy center.
Add toppings to sauce. I like to cut fontinella into thin slivers so it melts easily; then I top with the crumbled goat cheese and sometimes dollops of mascarpone.
Place in oven for 11-12 minutes. The cheeses should be melted and the edges slightly darkened.
Enjoy!
Because the prep and cook time doesn't take too long, you can easily have Naan pizzas become an appetizer at a party and create fresh ones in minutes. And those who don't want to spend too much time making dinner after work, it's a quick and easy dinner to satisfy all appetites.
Kids can also have fun customizing pizzas to suit their tastes.
Enjoy making your Naan pizza!
This site uses Facebook comments to make it easier for you to contribute. If you see a comment you would like to flag for spam or abuse, click the "x" in the upper right of it. By posting, you agree to our Terms of Use.