Happy 175th Birthday, Michigan!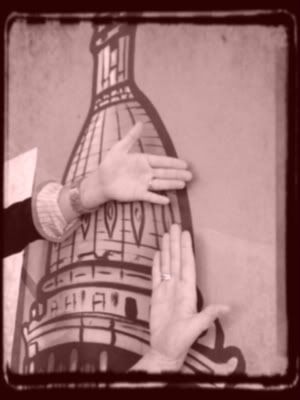 I was born and raised in the state of Michigan, and aside from a year and a half spent in the city of Chicago for graduate school - still connected via Lake Michigan to my Mitten State - I've lived here all my life.
Today is the state's 175th birthday, and although I could probably come up with 175 and more reasons why I love it here, I'll stick with a short list for now:
All four seasons. Some people joke that we have two seasons in Michigan: winter and construction. While that's true in a way, there's still something to be said for the spring, summer, fall, winter cycle we experience each and every year.

Along with that, the first warm day in a Michigan spring is a thing of beauty. In high school and college, that day meant grazing outside in the sun and 50 degree weather as if we had truly hit the heatwave jackpot. Boots were traded in for flip flops or other open shoes, heavy coats were replaced by jean jackets or nothing at all. Even if the weather took a turn for the worse the following day, it wouldn't matter. Those single perfect spring days that mix into the gray of March through May are enough of a morale boost to make everyone happier, peppier, and overall better people.

Lakes, lakes, and more lakes. Whether we're going up north, or across the state, or even just 40 minutes to a little cottage or lake house, we're spoiled by the abundance of water that surrounds us. Who doesn't have a family member, neighbor, or friend with access to a lake? It's tough to remember sometimes that people in other states aren't always within arms reach of a body of water, big or small.

We make some pretty yummy things. Faygo, Better Made chips, Sanders, apples, cherries! Our state is also the second most-diverse in terms of our agriculture, just behind California.

Let's face it, our sports teams rock. From the Detroit Tigers, Lions, Pistons, and Red Wings, to our college teams, we're pretty awesome. There's nothing like the pride of wearing your team's colors or mascot when you're somewhere else - and beyond that, the excitement of seeing someone else wearing the old English D, or hearing Go White when you say Go Green.

Buzz Lightyear loves to talk about our state. Okay, so really it's just Tim Allen doing a voiceover, but still - the Pure Michigan ads highlight all of the amazing qualities of our state, and (here comes that pride talk again) make people feel proud to be from Michigan. What other famous Michiganders could also do the voiceovers? How about Casey Kasem, Francis Ford Coppola, Ed McMahon, Michael Moore, Tom Selleck, Marlo Thomas, Lily Tomlin, Alice Cooper, Bob Seger, Madonna, or Stevie Wonder - all born in Michigan.

We can use our hands as a map. Even though Wisconsin is somehow attempting to claim a piece of Mitten State status, it will always be the universal sign of Michigan residency to hold up your hand to show where you're from.
And so much more! How do I love thee, Michigan? Let me count the ways!
This site uses Facebook comments to make it easier for you to contribute. If you see a comment you would like to flag for spam or abuse, click the "x" in the upper right of it. By posting, you agree to our Terms of Use.