Tip Top in my TOMS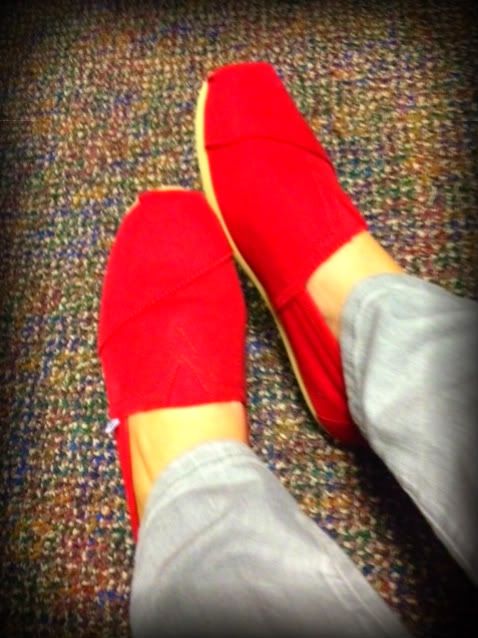 I first fell for TOMS Shoes when I was in grad school at DePaul in Chicago around 2008-2009. A store just down Halsted from the Lincoln Park campus - the Denim Bar - sold them. If you aren't familiar with the company, their concept revolves around the idea of "One for One": for every shoe bought, a pair will be given to a child in need.
The company has come a long way in a short amount of time. The styles of the shoes have evolved and expanded, and recently the company launched eyewear with the same "One for One" concept.
Some think they are ugly, but I think they add a fun pop of color and are undeniably comfortable. I originally bought pairs in navy and light purple, but now the choices abound, with corduroy, sequins, sparkles, stripes, you name it.
A pair of bright red TOMS were on my Christmas list this year, and I received them from my mother in law. I had been too worried to wear them out yet, with the salt and puddles and patches of snow, but today seemed like a perfect day to soak up the last bit of 40 degrees before winter turns on us again.
So for today I'm enjoying them, and they will be one of the first things I reach for this spring to bring some pep to my step.
And bestill my heart - TOMS is coming out with ballet flats this spring. Just another reason to look forward to the months ahead!
This site uses Facebook comments to make it easier for you to contribute. If you see a comment you would like to flag for spam or abuse, click the "x" in the upper right of it. By posting, you agree to our Terms of Use.