Beauty Pick: Moroccan Oil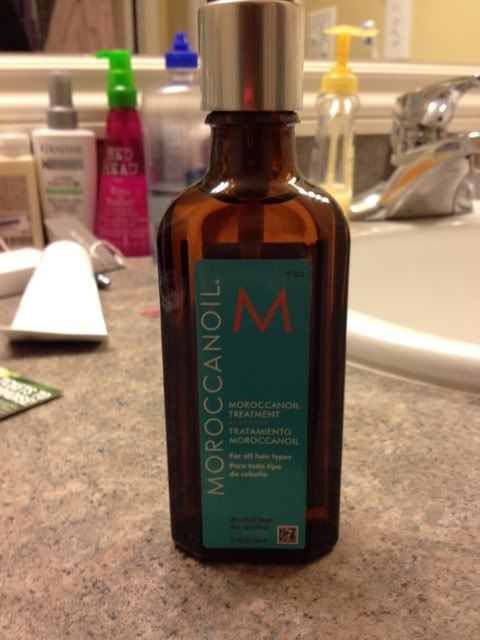 My hair is the longest it has been in over four years, and I've learned that I can fight the urge to chop it off if it looks glossy and healthy. Yet try accomplishing that in a Michigan winter.
Enter Moroccan Oil. I received a bottle as a Christmas present from my brother and sister-in-law after falling in love with theirs on a trip to Florida. Just a pump or two of the oil gives my hair shine and a yummy scent that forever reminds me of the beach.
Although it's on the pricey side (around $40, although sites like Amazon do sell it for slightly less), a little goes a long way from this big bottle. I've bought and barely used countless John Frieda Frizz Ease bottles that are barely larger than a bottle of aspirin and, added up, undoubtedly cost more than just one bottle of Moroccan Oil.
I ran some through my wet hair yesterday morning before blowing my wavy hair out straight, and today my hair is still silky and smoothed out, even after being outside and wearing a scarf around my head.
This dandy little product with the eggshell blue label is keeping me in Middleton territory instead of mid-winter crisis mode.
Thank you, Moroccan Oil!
xoxo,
Stefanie
This site uses Facebook comments to make it easier for you to contribute. If you see a comment you would like to flag for spam or abuse, click the "x" in the upper right of it. By posting, you agree to our Terms of Use.