Thank you, boys in green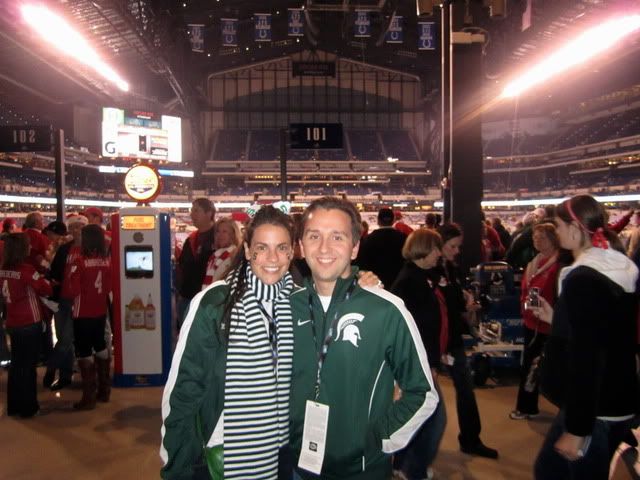 As a kid, I was big on the Berenstain Bears book series. One of my favorites is called The Berenstain Bears and Too Much Birthday. It's Sister Bear's birthday, and despite all of the wonderful things her family puts together for her birthday party, it becomes, well, all too much.
A real "It's my party and I'll cry if I want to" situation.
And that is exactly how I've felt after this past weekend of college football. Too much birthday.
I've felt sad since those final moments of Saturday's Big Ten Championship game, when the ref flipped that brazen, annoyingly burnt yellow flag out of his pocket and negated the amazing punt return by Keshawn Martin - one that at the very least, would have set up an easy field goal to tie the game.
We've been in situations like this before. That Iowa night game at home a couple seasons ago. Countless Michigan games back when I was a student in the student section, my legs aching from getting to the stadium hours early and then standing on the bleacher seats the whole game. Usually in the rain.
Yet this was obviously a bigger scenario. So much more at stake.
We hit the road from Lansing to Indianapolis in the late morning on Saturday, arriving at our hotel to check in before heading downtown to park hours before the game. We spent several hours at the Slippery Noodle Inn, the oldest bar in the city and one designated as an MSU bar for the game. It was a sea of green and white and happiness in the glow of the bar's Christmas lights and the LSU /Georgia game.
With every verse of the Fight Song sung in unison, with every high five and Go Green/Go White chant, the build-up to kickoff was unlike anything I've ever experienced.
By the time the game even started, I was a ball of nerves. When Wisconsin was up 21-7, a ball of nerves. And when State went for the two-point conversion to take a 22-21 lead? Ecstatic ball of nerves.
It was the kind of game where I never felt too confident, too sure, and I guess that's a good thing. That urgency is what keeps everyone on their toes.
And sadly, a storybook day didn't turn into a storybook ending for us Spartys. After weaving through a sea of red and green to get out on the streets of Indianapolis, I think many of us felt strangely numb.
Even after having over a day to process the game, there is still a series of what-ifs that pop up. So many of them. And I think what really makes me sad is not that I'm sad for myself for driving all that way and back, for spending time and money and energy on a Saturday (and part of Sunday) on football. Frankly, for spending all of those other Saturdays on football.
Instead, I'm truly sad for the team, for the coaches, for everyone involved with the program. It's that feeling of, they can never cut a break. Even with a 10-2 record in the regular season this year. Even with 21 wins over the last two seasons. Our guys should be feeling on top of the world. And yet, here we are - skipped over by the BCS, for a team we've beaten the last four years.
There was a time when we barely made a bowl or didn't make it at all - I was a student at MSU for most of those seasons.
Yet to be so close the last two years is a tough pill to swallow.
And another aspect of what makes me sad is that I will miss the amazing Seniors on this team. They've given so much to the game and to the school, and for that, I need to say this:
Thank you.
---
To my Spartan football team -
I have to thank you, for so many things. Thank you for giving us two perfect home seasons in a row. Thank you for Rocket and Little Giants and Mouse Trap.
Thank you for beating Michigan the last four years. Thank you for the consistency we always hoped and wanted for our football program. Thank you for strong performances in November.
Thank you for the gutsy calls, some of which were during Saturday's game against Wisconsin - the 4th and 1 touchdown pass, the two-point conversion to take the lead, punting on the last possession and putting your faith in our defense, who did the job.
Thank you, Kirk Cousins, for your eloquence when speaking to the media, whether it was after a loss or a win. Thank you, Mark Dantonio, for your guts as well as your brain, and heart too. Thank you Keshawn and B.J., Joel and Le'veon, and all of the players for putting your all into your careers at Michigan State.
Thank you for making me - making all of us - proud to be Spartans. Proud to live and work near and be affiliated in one way or another with this great university.
You should all be so darn proud. Because we are proud. So thank you - a million times over. And see you next season.
This site uses Facebook comments to make it easier for you to contribute. If you see a comment you would like to flag for spam or abuse, click the "x" in the upper right of it. By posting, you agree to our Terms of Use.