The Girl Who Kicked the Hornet's Nest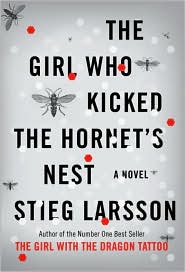 Despite not being the typical beach read, the only time I seem to be able to read the books from the Millennium Trilogy is when I make it down to Florida. After hearing so much about the books for the last couple of years, I finally got into The Girl with the Dragon Tattoo. I haven't read a book with that many pages in such a ferocious, unending manner. Shortly after finishing the book on vacation, I watched the Swedish film version on Netflix and became increasingly excited when I heard that David Fincher was directing an American version of the book.
Earlier this year I started and finished The Girl Who Played with Fire within the span of a week or two. Again, I tore through it and couldn't put it down, even though the book was like a brick in my hands and my fingers got tired of holding my place.
The books aren't very easy to follow, at least for me. The names start to blend together and I have difficulty keeping them straight, but eventually my own made-up versions and pronounciations of the names help me to remember and to make connections.
Still, that difficulty has made it even harder to get into the final installment of the series, The Girl Who Kicked the Hornet's Nest. Whereas the Dragon Tattoo book wraps itself up somewhat at the end, the middle book is more of a cliffhanger, and the third book picks up right where the middle one left off. This, paired with taking almost a year to start Hornet's Nest, has made the first couple hundred pages fairly slow-going.
Names and plots and associations that had finally come together in my mind earlier this year while reading the middle book are long gone. Thankfully, Stieg Larsson's writing style does allow for some repetition, frequent revelations and explanations.
Because of the complicated Swedish names and places, it's difficult to get through the book if there are distractions. And sadly, I only made it through about 200 pages before coming back home to Michigan this weekend. I'm not sure when I'll have the chance to finish the book, but now that I remember who is who and what went on in the second book, I sure don't want to let another year go by before finishing this one.
And you can bet that I'll be there to see Rooney Mara as Lisbeth Salander in Fincher's version, out this December.
This site uses Facebook comments to make it easier for you to contribute. If you see a comment you would like to flag for spam or abuse, click the "x" in the upper right of it. By posting, you agree to our Terms of Use.