Stick a Fork in It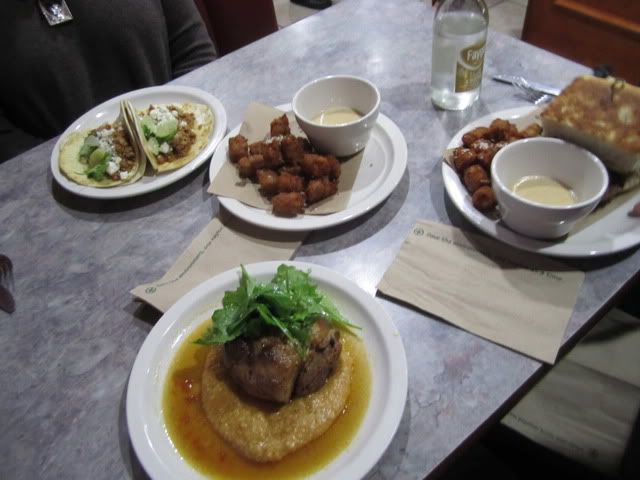 If you haven't tried Trailer Park'd "Slow" Fast Food, what are you waiting for? Well, you might have missed your window, because the guys behind the popular local food truck are throwing their energy into the opening of their restaurant, Fork in the Road; Local Artisan Diner.
Fork in the Road opened for business on Thursday, and they will be having their official ribbon cutting ceremony tomorrow morning.
It's difficult to believe there was a time before many of the food trucks around Lansing existed. I began hearing about The Purple Carrot Truck in the early summertime, and when I first went to try it out, a man told me about Trailer Park'd. At that point, they were near the old car wash in Old Town, and I remember stopping there to get the famous Ballin' Ass Tacos and strawberry lemonade.
With fresh cilantro, queso fresco, chorizo and chunks of lime, these tacos are aptly named - they truly are ballin' ass.
Throughout the summer and into the fall, I've been an avid fan of our local food trucks around the Lansing area, following them wherever they would be on a given weekday. It seemed that our love affair would last forever.
Yet we find ourselves well into November, "falling back" with the clocks, and it won't be long before many of our favorites close up shop for the winter. Having only known these food trucks since the warm days of summer, it's difficult to imagine a winter afternoon without the option of visiting one of these gourmet stops.
So imagine the delight in knowing that Trailer Park'd was in the process of opening a restaurant, and what felt like days later, actually opening it!
Before a trip to Chicago with my mom over this past weekend, it was important to make a point of visiting Fork in the Road in its early days. My mom, husband and I arrived around 6:00 p.m. on Friday night, the second evening of being open. The restaurant was full and many were standing in line waiting to order. We snagged a table from a couple who was just leaving, and placed our order.
My mom ordered the Ballin' Ass Tacos, after I got her obsessed with the menu item during a visit to Old Town one summer afternoon. My husband Zack ordered the smoked meatloaf sandwich, and I ordered the braised pork shoulder. We also ordered two orders of tots, which have a wonderful taste of rosemary and garlic to them.
Those entrees, paired with delicious bottled root beer and Faygo cream soda, made for a delicious and wonderful meal.
Aside from the food, which we already knew would be great, Fork in the Road has some charming features to it. Inside both of the bathrooms, they have painted part of the walls with chalkboard paint, and encourage patrons to write messages or draw with the chalk provided. It's something small, but allows everyone to leave their mark, so to speak.
It mirrors the handwritten menu items in chalk on the walls surrounding the kitchen and counter area. The window treatments are a colorful hodgepodge of fabrics, and tables had bouquets of flowers.
I will be heading back to Fork in the Road tomorrow for their official ribbon cutting ceremony, and no doubt will bring some of their delicious food back to work with me for lunch.
If you're looking for something fresh, new, local, and downright delicious, you absolutely must check out Fork in the Road; An Artisan Diner.
---
Fork in the Road is located at 2010 W. Saginaw Street in Lansing, Michigan next to the Biggby coffee.
This site uses Facebook comments to make it easier for you to contribute. If you see a comment you would like to flag for spam or abuse, click the "x" in the upper right of it. By posting, you agree to our Terms of Use.