Halloween 2011 Pumpkins
Over the weekend my husband Zack and I finally bought our pumpkins for Halloween at the Meridian Farmers' Market. I have been posting stories to the FOX 47 website for weeks now about the pumpkin shortage this year, but still I managed to put off buying pumpkins until the week before Halloween.
We really lucked out at the farmers' market, scoring three pretty amazing-looking pumpkins with great stems and not many blemishes or "grow sides" - that flat, muddy side that the pumpkin has been laying on as it grew.
It's been a tradition for the last three years - and really, the three years that we've had our home since getting married - to have my husband's cousin Brian over and carve pumpkins. As I mentioned in my first Blog post, much of our inspiration comes from pop culture. Zack likes the classic Jack-o-Lantern face, so our porch is often a mix of traditional and current.
This year I did end up doing an Apple in honor of Steve Jobs. We are definitely Mac crazy in our house, and we credit iTunes for helping us meet in college (a long story worthy of its own blog post one day). So when Steve Jobs died earlier this month, it did make us take a step back and realize how much of what he has created has affected our lives personally, and the lives of millions of others around the world.
It was fitting to have my MacBook on the kitchen table playing Pandora's "Halloween Party" station while we carved our pumpkins. I love the look of the two apples glowing next to each other:
I considered adding a halo or even the years of Steve Jobs' life, but when Zack said, "What would Steve do?", I realized that yes, less is more.
Brian worked very hard on his pumpkin for much of the night. He took inspiration from the logo on an LMFAO t-shirt.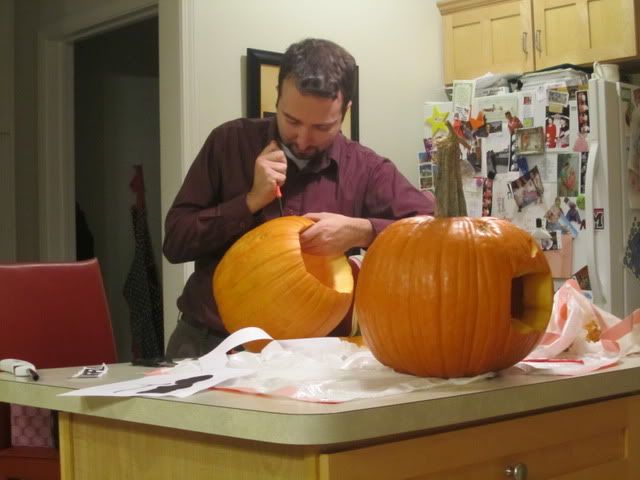 Check out the detail: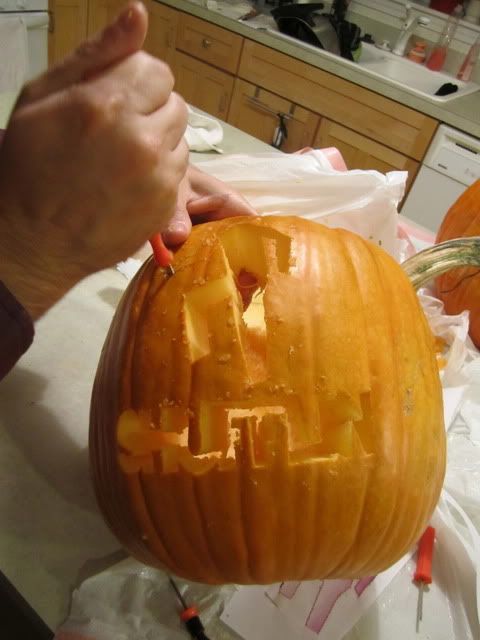 When he finally finished, he had the "Every day I'm shufflin'" LMFAO pumpkin of his dreams.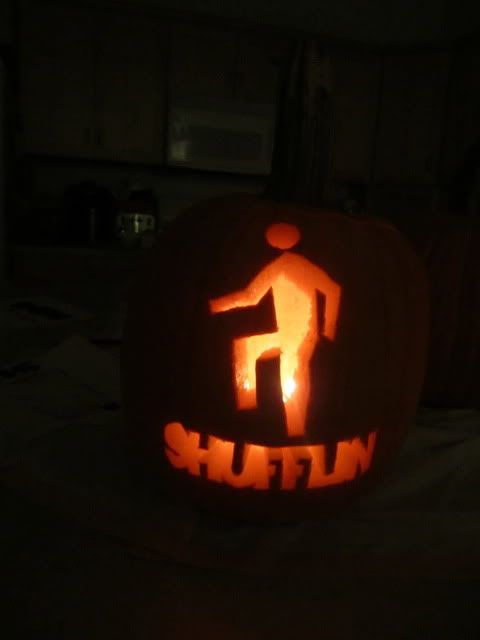 It was another successful evening of pumpkin carving. Paired with some day-old crockpot chili and a slice of Sweetie-licious pie, it was a perfect Monday night.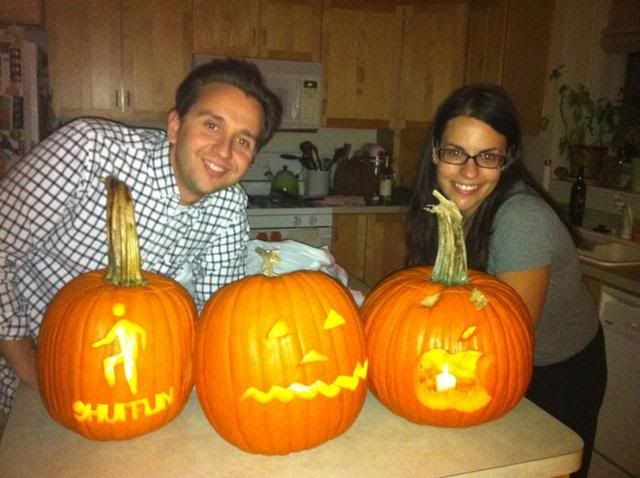 ---
Want to share some of your fabulous pumpkin carvings? Head on over to our FOX 47 Facebook page and post away!
This site uses Facebook comments to make it easier for you to contribute. If you see a comment you would like to flag for spam or abuse, click the "x" in the upper right of it. By posting, you agree to our Terms of Use.