The Pop Culture Pumpkins
It would be safe to say that I plan my Halloween costumes out months in advance. By November 1st, I'm already imagining scenarios for the following year's costume creations.
Halloween brings out my creative side. And in my opinion, Halloween costumes can fall into two categories: classic, and timely. Do you go for something classic, such as Holly Golightly from
Breakfast at Tiffany's
, something instantly recognizable like the zany Richard Simmons (who I portrayed for Halloween last year), or even your standard witch, cat, what have you.
But then there are those timely, pop culture-types of costumes that are pulled straight from the headlines, often for humorous effect. I guess we'll have to wait and see if a group of five girls in blonde wigs decide to dress up as Lindsay Lohan's five mugshots for this year's Halloween festivities.
When it comes to Halloween costumes, I do tend to go for classic. This year my husband and I will be dressing up as characters from
A League of Their Own
.
But when it comes to carving pumpkins, I am all about the pop culture pumpkin.
In 2009, the year that Michael Jackson died, I decided to do a tribute pumpkin for him. Unfortunately, those clever carving kits at the grocery store don't come with an MJ stencil.
However, I've discovered that a print out of a celebrity, when the silhouette is recognizable, works just as well.
I found a photo online of Michael from the cover of his
Number Ones
greatest hits album, and using the same hole-poking technique used with the stencil kits, did my outline around his pose.
Then I used the mini-saw to cut out the figure. When the pumpkin didn't feel complete enough, I free-handed the creepy Thriller font onto the pumpkin with a Sharpie marker and sawed out the letters.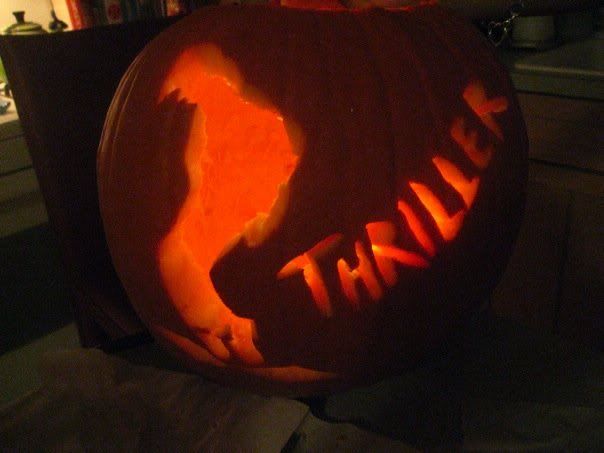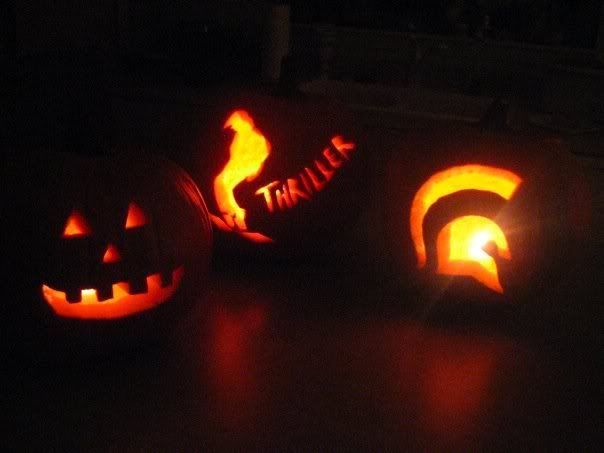 I knew I had a winner when young trick-or-treaters recognized who it was when the pumpkin was sitting on our porch.
Last year, I continued the tribute pumpkin theme with a Patrick Swayze pumpkin. I chose a photo of my favorite scene in Dirty Dancing, when Baby and Johnny Castle are singing to each other on the floor.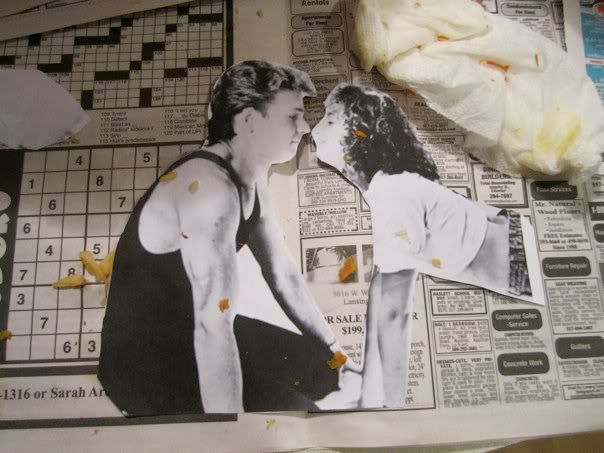 For good measure, I added wings to his back and tried to cut out a little halo into the pumpkin, which ended up snapping off at its thinnest point. A small piece of paper taped to the pumpkin then worked for the halo.
That same year, my cousin Brian did a tribute pumpkin as well, for Farrah Fawcett. His Charlie's Angels pumpkin featured – yet again – a recognizable silhouette that translated perfectly onto the pumpkin.
The key to a great pumpkin carving is being aware of what needs to be cut away and what can remain. Knowing how the light will enhance the silhouette and features is a big help in deciding how to do a design.
Pumpkins using this method can also be quite simple.
One year I did a Charlie Brown pumpkin because my husband and I were going as Charlie and Lucy that year. Using a line drawing of Charlie Brown that I printed from online, I carved out some of the key features of his face and left everything else alone on the pumpkin.
To get the shape of his head, I cut out a background piece around his head to let the light through.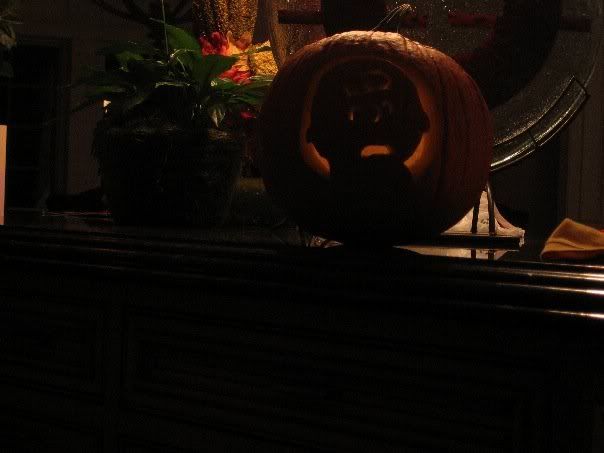 ---
I hope this gives everyone the confidence to try out something new when it comes to carving pumpkins.
So what will be on our pumpkins this year? It's a tough call. The Old English "D" would be very timely and show support for the Detroit Tigers.
Yet, as my theme for the last two years has been tribute pumpkins from pop culture, I'm seriously considering the Mac Apple in tribute to Steve Jobs.
---
We hope to see your pumpkin creations on the FOX 47 Facebook page!
This site uses Facebook comments to make it easier for you to contribute. If you see a comment you would like to flag for spam or abuse, click the "x" in the upper right of it. By posting, you agree to our Terms of Use.