So this is my first blog entry.

Let me first start…by simply saying welcome. Thanks for taking time to read what I have to say, and listen to some of my thoughts. These thoughts are mine, and do not represent FOX 47 News or anyone else. Take it for what it is.

You'll note that this entry, as will ones in the future, has to do with music. It's a big part of my life. People may make the world go round—but music makes them move. It doesn't matter what kind you listen to: rock, jazz, hip-hop, soul, electronic, r&b, country, classical, Brazilian, top 40s, oldies—whatever—music makes you MOVE. That may be the best thing about it. Music is ALWAYS there for you. In good times. In bad. It's a special relationship we all have, and there always seems to be a perfect song to fit the mood.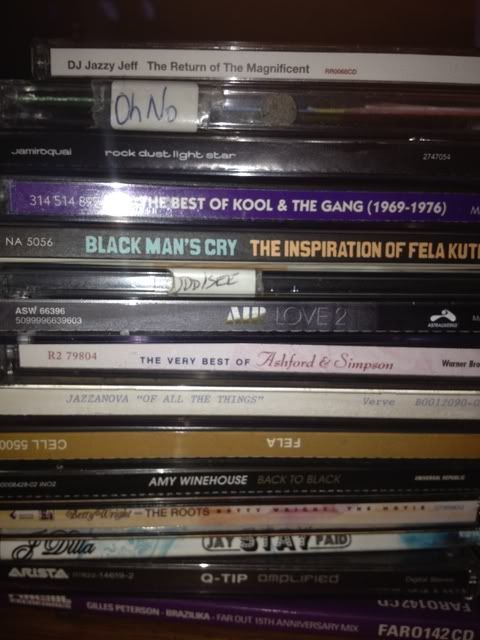 Another typical day of finding goodies at the record store

This might seem like I'm rambling—but there is a point to all this. I happen to be in a commercial for Fox 47 News, where I talk about being 'caught' in my car rocking out to music. The premise of that commercial happens quite often. On my way to work, running errands, whatever. It happens. And every once in a while, people will pull up to me…see my jamming… roll down their window and ask me to do the same. That's when I get this:

People in Car Next to Me: WHAT YOU BUMPIN' TO, YO?! YOU ROCKIN' THAT SOLIJA BOY, NEWS GUY?!

Me: (sheepishly) ummmm…no. I'm listening to Grupo Batuque, a song called "Berimbal Capreira".

PICNTM: (blank stares) Oh. What's that?

Me: It's music out of Brazil.

PICNTM: (more blank stares) Oh. (They look at each other) We figured it'd be some hip-hop stuff.

Me: Nope. Sorry to disappoint.

Then I'll get:

PICNTM: You should mention you saw us at this stoplight on the news tonight.

(Light turns green, they speed off)

It's happened a couple of times and I haven't thought much of it. Then I started thinking.

Why do people always ask me if I'm 'bumpin' some terrible hip-hop music in my car?

Why does it have to be hip-hop (I have my reasons, and that's a topic for another time)?

Those two questions had me thinking about this entry. My point is this—and we've all heard it before—don't judge a book by its cover. To assume that someone listens to just ONE type of music is incredulous and insulting. There are several pages in books—just like there are several pages to me.

AND BY THE WAY:

I'm grown. I don't listen to Solija Boy (or whatever the hell his name is), Justin Bieber, Miley Cyrus, or any of these other teeny boppers. I'm grown. Give me some real music. I don't settle for packaged pop.

Speaking of real music— listening to Stevie Wonder may be the best way to start off a
day:
This site uses Facebook comments to make it easier for you to contribute. If you see a comment you would like to flag for spam or abuse, click the "x" in the upper right of it. By posting, you agree to our Terms of Use.